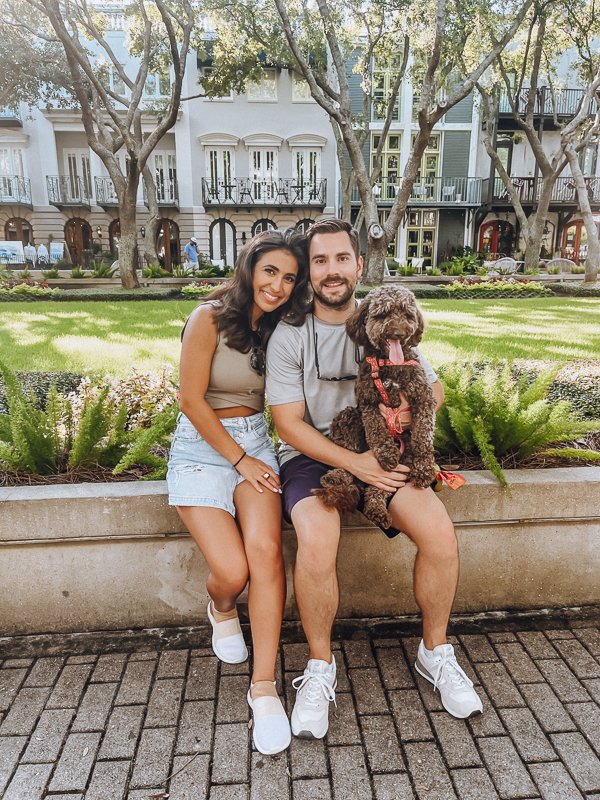 ABOUT ME
Hi beautiful, I'm Sofia!
I'm 25 years old and I love living life one day at a time. My husband, Parker, is my best friend and the love of my life. We recently moved just outside of Pensacola, FL with our labradoodle puppy, Bernadette (Bern). We love to travel, eat good food, and hit the beach (often). We're currently on a mission to visit all 63 National Parks in the U.S. with some close friends!
I graduated from NC State University with my degree in Business Administration & Marketing (Go Pack!) and I am also a certified makeup artist and hairstylist. I love visiting my family in my hometown of Raleigh, NC and have even more reason to visit since officially becoming an auntie on July 1, 2022! Retail therapy, international travel, Gilmore Girls reruns, new skincare products, and anything that comes in a mini size is my favorite.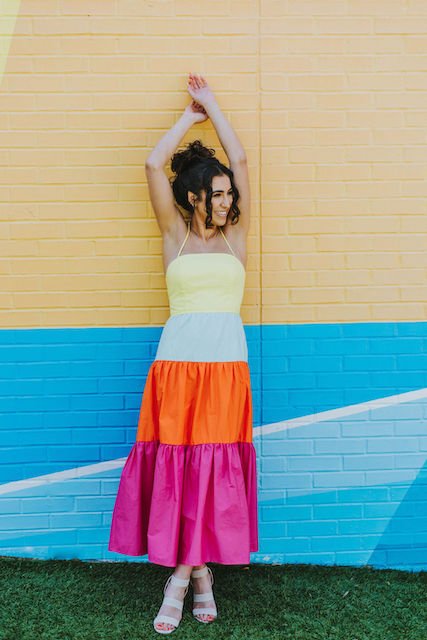 Writing comes more naturally to me than just about anything. Some people tell me I write exactly as I speak, but I know I am more eloquent on paper than I am in person. I'm okay with it.
That's also why I'm here! I'm a firm believer that we are all blessed with God-given abilities, which we should use to bless others however we can.
I'm so thrilled that you stumbled on my blog. Time is a hot commodity these days, and I am beyond excited that you chose to visit my site and spend some of yours with me.
You'll discover that time is sort of what this blog is all about. I've been living life on the go for as long as I can remember and it seems like time is always of the essence! I'm always looking for time saving methods and products so I can maximize and enjoy the time I do have.
If I can help you live a brighter, lighter, and more vibrant life through this site, then I've fulfilled my mission. On this blog I'll share effortless beauty, lifestyle, and travel tips for a busy life on the go.
TIMELINE
March 4, 2017
Unofficially Entered the Wedding Industry
I did my sister's makeup for her wedding as well as two other bridesmaids. From there, word of mouth brought me two more bridal clients!
March 4, 2017
December 15, 2018
Graduated College
Thanks to my summer study abroad in Italy I was able to graduate one semester early! I started my first post-graduate job as a Digital Marketing Specialist with a local marketing agency in Raleigh, NC.
December 15, 2018
February 20, 2020
Officially Incorporated Styled By Sofia, LLC.
After halfway committing to my side-hustle for a few years, I decided it was time to make it official with an LLC.
February 20, 2020
September 4, 2020
First Home Purchase
Parker and I purchased our first home in New Bern, NC!
September 4, 2020
January 1, 2021
Got Married!
We had a beautiful, intimate wedding ceremony with just our families at my parents home in Raleigh. Being a "Covid Bride" was interesting.
January 1, 2021
January 5, 2021
Move #1
I officially moved to New Bern, NC full time and took a remote position at the marketing agency I was working for.
January 5, 2021
January 31, 2022
Quit my 9-5 Job
A full year later I quit my 9-5 job to take the plunge into full-time blogging, bridal hair & makeup, and content creation.
January 31, 2022
April 25, 2022
Lifestyled By Sofia Blog Launch Date!
On my Golden Birthday I officially launched the Lifestyled By Sofia Blog!
April 25, 2022
June 20, 2022
Move #2
Parker's career took us to the Florida Panhandle! We currently live in Gulf Breeze, FL which is just outside of Pensacola.
June 20, 2022
January 1, 2019
Became Landlords
We always dreamed about accumulating investment properties, so shortly after moving, Parker and I put our house in New Bern up for rent!
January 1, 2019
Don't be a Stranger!
Learn more about how you can support women in business in Pensacola by checking out this list of Palafox Market vendors!

---

Explore local vendors, food trucks, and live music all in one spot at the Palafox Market in downtown Pensacola.

---

Keep calm and carry on is the name of the post-covid travel game. Avoid a baggage claim nightmare with this carry on packing list.

---