I remember when traveling overseas meant packing my checked luggage so strategically that the scale at the airport counter would read "49.99 lbs". YESSSS. Take that, skeptical airport employee. There I was, ready to conquer anything that trip would throw at me, despite the smirk on the airport attendant's face. Fast forward to 2023 when my packing process consists first and foremost of consulting my carry on packing list for long trips. Oh, how times have changed.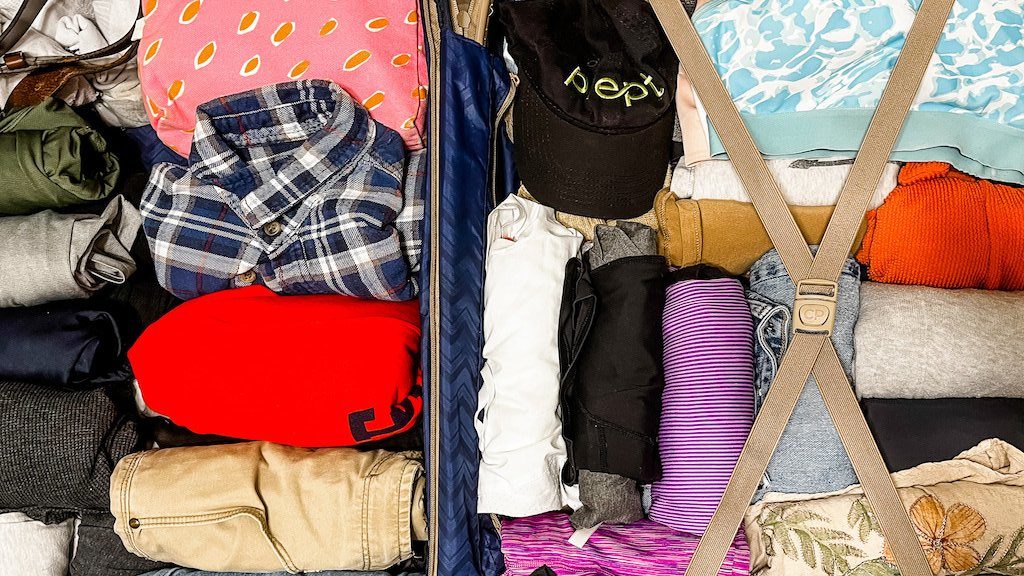 Luggagehero.com reports that from July 2021 to December 2021, a total of 1,251,209 bags were mishandled by US airlines out of 220 million checked bags. That's 6 out of every 1000… and while that may not seem like a huge number, those odds are a little too frequent for my taste. In this post-covid travel era, I've adopted a 'less is more' motto when it comes to packing for long trips (or any trip for that matter). As a (recovering) notorious overpacker, I have to remind myself that the less you bring, the less you worry.
In recent years I've created a carry-on packing list for long trips that contains everything you need for a worry-free flight. And more importantly, a worry-free arrival at your destination.
Start here:
If you're wondering how to pack without checking a bag, consider investing in a hard shell rolling carry on suitcase. I HIGHLY recommend a 4-wheel rolling carry on bag because it will save you from awkwardly lugging heavy bags from one terminal to the next. The other reason is that you can attach another bag to the handle of your case, which maximizes space and legitimately saves your back. I LOVE my Calpak carry on bag. It has a middle zipper divider with smaller pouches for storage. I've found that the most efficient way to pack a carry on is by separating shoes or bulky objects like a toiletry bag on one side and clothes on the other.
Why use packing cubes in luggage? Well let's just say you're less likely to have to jump up and down on your bag to get it to close. The more organized you are, the easier it will be to fit as much as possible into your bag. This 8-piece packing cube set from Amazon is so helpful for keeping your bag neat and clean. You can use packing cubes to organize clothes by category or separate different outfits into each cube.
This is high up on my carry on packing list because I can't be the only one whose jewelry has gotten seriously tangled while traveling. Last year I finally purchased this mini jewelry organizer for trips and it has been a game changer. The one I use holds earrings, necklaces, bracelets, and up to 6 rings.
Shop My Favorite Travel Essentials

When it comes to an in flight personal item, I prefer a backpack to a duffel bag or purse for a handsfree travel experience. Using a backpack means you can easily grab a coffee, pull up your boarding pass on your phone, and multitask while navigating the airport. You can also easily fit a backpack under your airline seat for easy access! The best air travel backpacks, like this one, usually feature multiple storage compartments, a built-in laptop sleeve, and USB charging port.
Inside my personal item, I pack:
Comfy shoes & extra pair socks
Book/magazine
Protein bar
Reusable water bottle
Small handbag or clutch
Wallet
Keys
In flight essentials bag
Pro tip: Attach your travel pillow to your backpack so it doesn't take up room in any of your baggage!
I store a small handbag or purse inside my personal item so I can carry my wallet, phone, and other valuables in it while I'm out and about. I'm also trying to be cute while traveling and not carry a backpack everywhere I go!
Next on my carry on packing list is a mini in-flight essentials bag. I actually store this inside my personal item and use it to hold smaller items that I need to access quickly while traveling such as:
Chapstick
Medicine
Blister patches
Bandaids
Sunglasses
Earplugs
Mini sewing kit
Pen/pencil
Gum/mints
Wireless Ear buds (and corded earbuds for watching movies in flight)
Ziploc containing travel size lotion and sunscreen
This Cubetastic small makeup bag on Amazon has separate compartments and zipper pockets to neatly organize everything you need during your flight.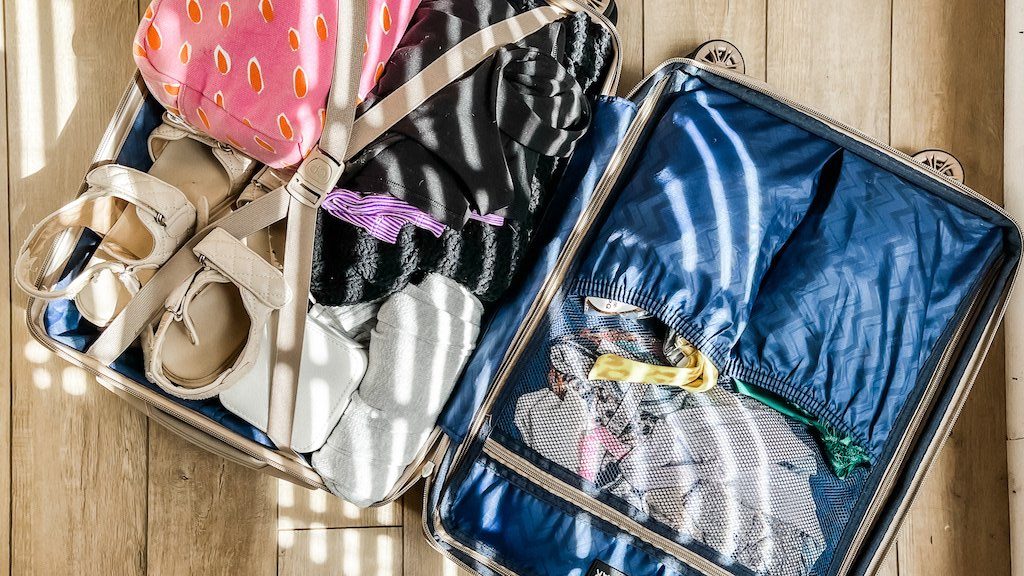 Some helpful notes on how to effectively pack a carry on:
Can you pack everything in a carry on?
Where there's a will, there's a way! Although, I do think this depends on how long your trip is and if you have access to laundry facilities during your stay. Packing a carry on for a week is going to look different than packing for a weekend trip. If you're able to do laundry wherever you're going, pack as few articles of clothing as possible.
Figuring out how to travel without checking a bag takes the right bags and the right packing techniques to make it happen.
How to efficiently pack clothes in a carry on suitcase
Roll your clothes! Rolling vs. folding your clothes when packing is a serious space saver. You can also layer an entire outfit and roll it into one so you can just pull out a single roll without rifling through your whole bag to find your left sock.
Packing clothing staples
When deciding which clothes to bring, I recommend sticking to neutrals like black, white, beige, navy, and denim. This will allow you to mix and match to create different outfit combinations from fewer articles of clothing.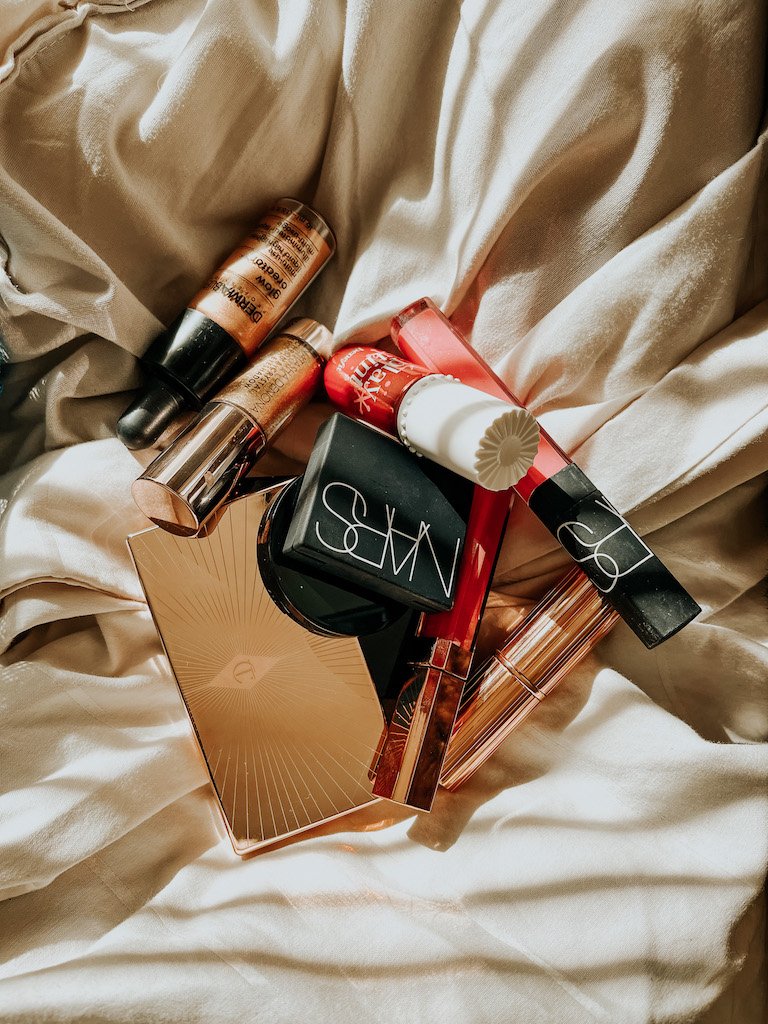 Can makeup go in a carry on?
As long as liquids are 3.4 oz or less, they can be packed in your carry on bag. Luckily, most foundation bottles are 2 oz or less. The biggest thing you need to worry about is setting spray, however there are a ton of great travel sized options. If you're ever in doubt, opt for powder or cream versions of your makeup, which aren't regulated by the TSA liquid requirements.
Packing to come home
If you think you may accumulate souvenirs or gifts during your travels, consider shipping them to your home address instead of packing them. You may find it's actually cheaper than paying to check a bag. Alternatively, pack an empty bag inside your suitcase and fill it up with your purchases. You can fly home with this as your personal item or carry-on if you're worried about losing them.
Long gone are the days of depending on your airline to deliver your lost checked bag. It's better to prepare for the worst and use these carry on packing list essentials to pack as little as possible! Let me know how it goes on your next trip!