Looking up from the Angel's Landing Trail Head, you might not realize the peak of Angel's Landing stands an intimidating 5,785 feet above sea level. Most people don't actually make it all the way to the top after seeing the narrow trail that extends beyond Scout Lookout (the 2.5 mile mark). The hike to the top is not for the faint of heart and definitely not for anyone afraid of heights. After successfully making it to the top of Angel's Landing (and back) I put together a comprehensive packing list for your Angel's Landing hike. Use this together with my guide on How To Plan Your Hike Up Angel's Landing and you'll be ready to go!
How to Pack Your Bag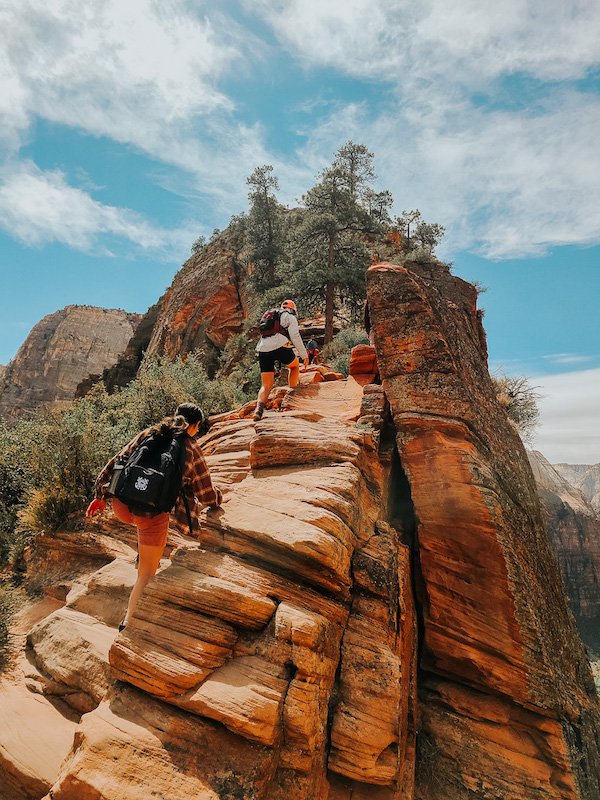 More than any other hike I would recommend a pack that's small and hugs close to your body for Angel's Landing. Especially if you're going beyond Scout Lookout, you may encounter tight squeezes between hikers coming down the cliff as you're hiking up. As much as possible you should avoid anything that's going to impede your progress or balance during the tricky parts. The Survival Strap from Beis is my favorite for hikes because it's extremely lightweight. It may look small but it fits everything you need!
Hiking Angel's Landing is arduous so don't be too ambitious with the amount of stuff you pack. Here are the essentials I recommend:
Essentials
Snacks
My number one will always be food. I remember vividly how ready I was for a Cliff Bar by the time we got to Scout Lookout. Actually, I remember wanting one 30 minutes into the hike but my husband made me wait so we wouldn't run out of snacks. Good call. See below for my favorite hiking companions:
Cliff Bars
Rx Bars
Kind Bars
Apple
Trail mix/nuts
Dried fruit
Granola
Any of these options will give you a much-needed energy/carb/sugar boost!
Ziploc or Grocery Bag for trash
You're at a national park so you definitely want to stay cognizant of any waste you're creating. Keep any snack wrappers or other trash with you inside of a Ziploc or grocery bag throughout the hike. Make sure garbage is disposed of properly and only toss it when you have access to a trash can!
Water Bottle
Bring a reusable large water bottle with a straw so you can drink on the go. It's a good idea to fully fill up on water at the Zion Visitor Center right before you get on the shuttle. If you're hiking solo or worried about running out of water, you might want to consider a Hydrojug. They come in a half-gallon size with a crossbody strap so you don't have to worry about holding it the whole time. I love that the bottle carrier sleeve holds my phone and other small items too. Prioritize staying hydrated and don't worry about drinking too much; there are public bathrooms at Scout Lookout! Praise.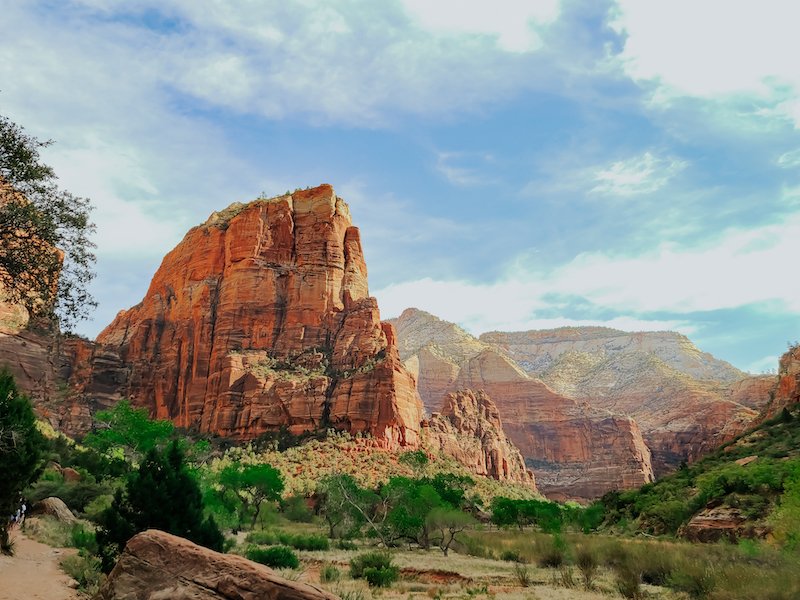 Phone/Camera
The views from the Angel's Landing hike are breathtaking so bringing your camera is a must. You might get to see a Condor up and close like we did!
What to Wear
Comfortable hiking shoes
I love my hiking boots, but they were not broken in before I went on this hike. My feet were so sore on the way back that I literally ripped off my boots and socks and went barefoot after Walter's Wiggles switchbacks. If I could go without shoes for the rest of my life I probably would but this was one moment I would have done anything for a good pair of shoes.
All that to say, make sure you have solid, worn-in hiking boots and thick socks. If you're planning on wearing sneakers, remember that solid treading is needed (especially for the portion of the hike past Scout Lookout). You'll likely experience awkward footing at some point and could risk spraining an ankle if you don't have enough support.
Dress in Layers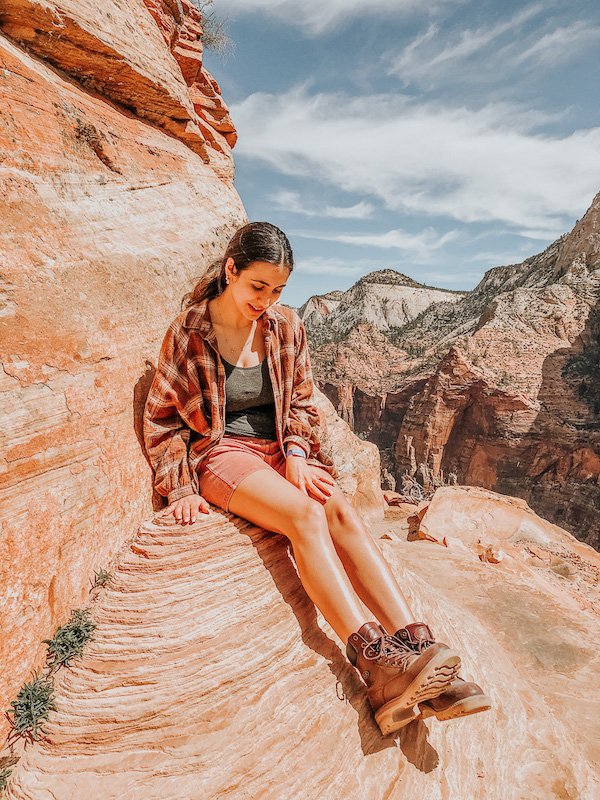 For this hike I wore a fitted tank top, bike shorts, and a flannel with hiking boots. I like to wear fitted clothing for this kind of hike since baggy fabric gets in the way. The flannel came in super handy when we got to the top because of the wind chill. For the first half of the hike I kept it tied around my waist and out of the way.
Wear Sun Protection
Multiple forms of sun protection are non-negotiable for Angel's Landing. Keep in mind that the majority of the hike isn't shaded so you'll be exposed to sun and wind for much of it. Here's what I recommend bringing to keep your skin protected:
Chapstick
Lip balm is a must-have in windy conditions at high altitudes. Bring a hydrating lip balm with SPF to protect your lips and prevent cracking while you're exposed to the elements. I love the Perricone MD No Makeup Lipstick because it's skincare and "makeup" in one. It has hyaluronic acid and SPF 15 to make sure your lips stay hydrated and protected all day.
Hat
Since conditions will be windy at the top I recommend bringing a hat that secures tightly or can be worn around your neck when not in use. This ponytail running hat from Lululemon is tight fitting and pulls all of your hair back and out of your face.
Sunscreen
When I'm exposed to the sun and elements for a long period of time I double up on SPF to start and reapply throughout the day. I love the matte finish, waterproof formula Every Sun Day Mineral Sunscreen from Dr. Jart+. Combine that with the tinted SPF 68 compact from Skinbetter Science and you have an unstoppable duo. Or you could just use one. This is coming from someone who wears SPF moisturizer to bed.
Sunglasses
Sunglasses are an absolute must. Like the hat, it's a good idea to secure your sunglasses so you don't lose them to the abyss. Grab a solid sunglasses connector or chain to add to your sunnies. I love the waterproof and sweat resistant chains from Heir Raleigh. The gateway mask and sunglasses chain is cute and functional—my kind of accessory. (sunglass emoji)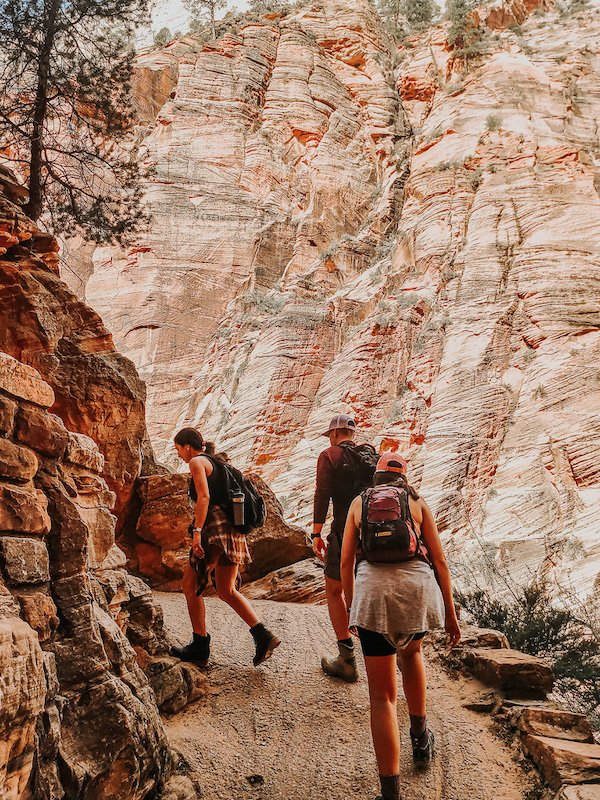 Nice To Haves
These items aren't absolutely necessary but they might be nice to have on hand during your hike.
Portable speaker or headphones
I wouldn't recommend anything that's not connected to your body or attached to your pack for this hike (ahem* Apple Airpods) because if it falls, consider it a lost cause. For reference, the drop offs along the side of the trail range anywhere from 800-1000 feet.
Instead, I would recommend bluetooth headphones that clip onto your shirt or a small portable speaker that can be attached to your pack with a D-ring. I use this tiny, lightweight iHome bluetooth speaker that attaches to my Survival Strap.
Portable small fan
A portable fan is a great item to have on hand especially if you're hiking on a warmer day. The higher you get the windier it will be, but on Walter's Wiggles switchbacks, you'll be glad to have one!
I have this small rechargeable handheld fan, which is great given its size and weight. It also comes with a removable lanyard for hanging around your neck.
Tissues
I'm already the kind of person that just gets a runny nose no matter the circumstance, but especially at high altitudes, I don't stand a chance. If your nose runs or your eyes get watery easily, definitely bring a travel pack of tissues with you!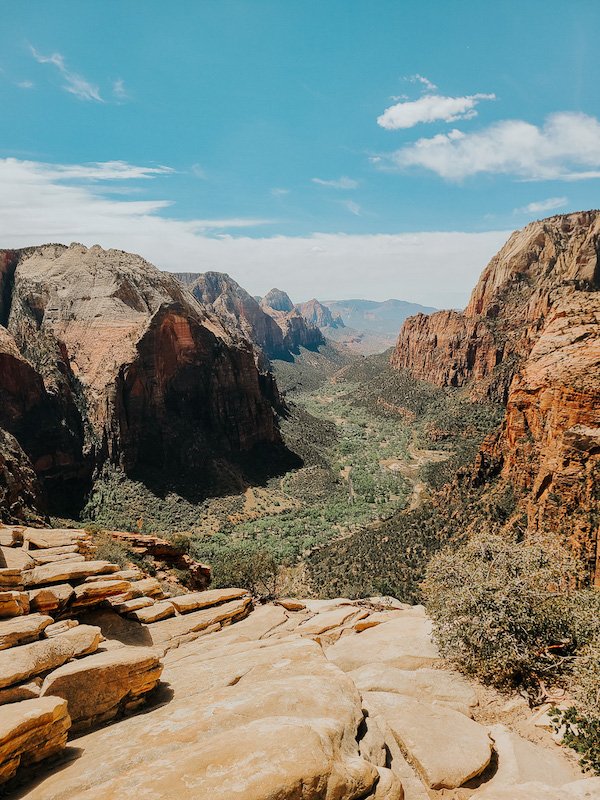 Hair tie
With the wind blowing constantly it's a good idea to keep your hair pulled back so it doesn't impede your line of sight. This is definitely not the hike to lose track of your footing!
Sports Watch
If you want to keep track of the time or your steps make sure to wear a sports watch or a smart watch on your hike. It will be impressive to look back on the major elevation gain you experienced from the Angel's Landing trail head to the end of the Angel's Landing hike!
Bandaids or blister patches
If you haven't hiked in a while or you're afraid your boots aren't quite broken in yet, pack a few bandaids or blister patches just in case. The last thing you want is to take off your shoes halfway through the hike because you can't walk in them anymore. Take it from someone who has #beentheredonethat.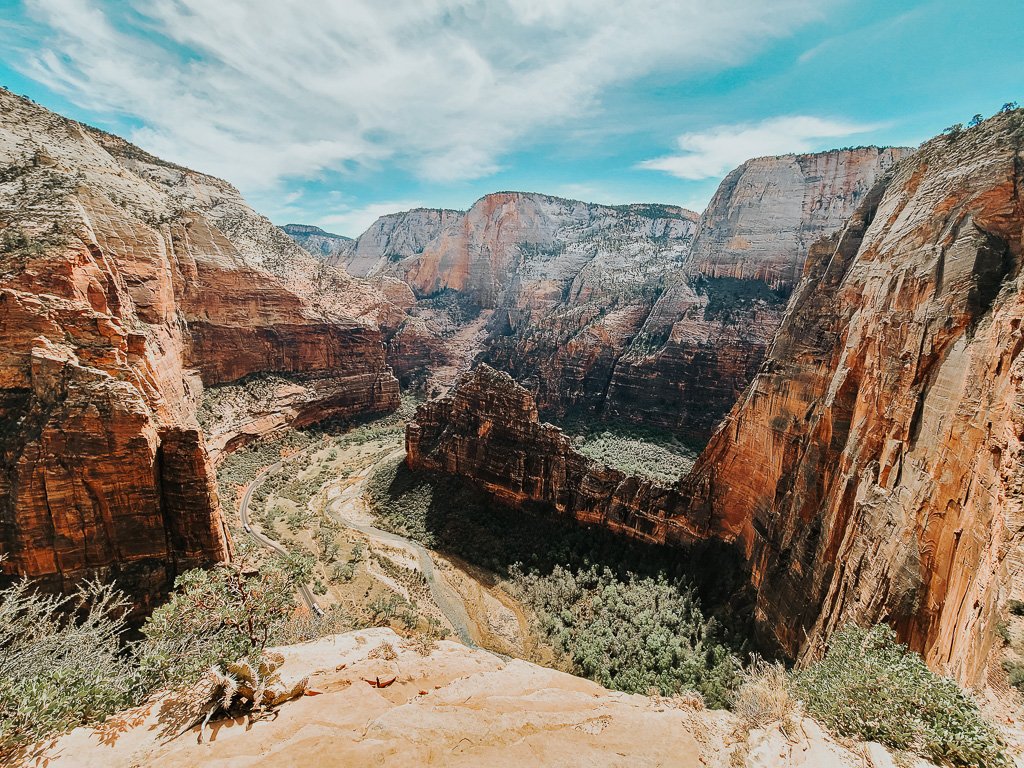 One thing is for sure, hiking Angel's Landing is an unforgettable experience. The views along the way are stunning and the feeling of accomplishment once you reach the top is an adrenaline rush in and of itself. Don't forget to bookmark and save this post so you can reference it on your trip to Zion National Park! I'd love to hear about your experience hiking Angel's Landing in the comments below!