Back in April, I made a long overdue car purchase. My very reliable Rav4 has now taken me 11,000 miles in just over six months. This is coming from someone that works from home and basically just goes to the dog park, grocery store, and gym during the week. But outside of my otherwise mundane driving schedule, my odometer doesn't lie; long road trips are kind of my thing. Over the years I've developed a list of long distance road trip essentials I don't travel without.
How I Created My Road Trip Travel Essentials
Long distance road trips were a huge part of my childhood. We used to go on family trips to visit my Aunt and Uncle in New Hampshire when I was growing up in NC. My parents had to pack items to keep two kids under 10 entertained during a 16-hour drive. Disclaimer: This required some law-breaking.
I remember vividly how every single one of our road trips began.
The third row of seats in our 1997 navy blue Honda Odessy would go down. Blankets and pillows were thrown on the floor. And our old VHS player TV would be wedged in between the two middle row seats facing the back. My sister and I would lie down in the back of the van, play games, watch movies, and eat lots of snacks in our mobile playroom. We didn't buckle our seatbelts (hence the law-breaking) and my parents led us to believe that the only time we could stop the car was when we needed gas. 16 hours flew by in that minivan.
Ultimate Road Trip Packing List
I guess you could say my list of road trip travel essentials was born out of family tradition, but I've added a few of my own favorites throughout the years.

If you spend a lot of time on the road like I do, check out my Ultimate Road Trip Packing List. These long distance road trip essentials will keep me happily living out of my car for the foreseeable future 🙂
Road Trip Bag Essentials
Road Trip Snacks
The first thing that goes into my road trip bag is food. For one thing, food from home is the best, and for another, I can't afford to wait when I get hangry. And everyone else in the car would agree.
I usually try to bring snacks that are easy to eat and don't make a huge mess. Minus the one time I brought an entire pan of homemade lemon bars on a road trip with my in-laws. I forgot to bring a knife or fork to cut them, so we literally just dug in with our bare hands. No joke. In hindsight, the lemon bars might have been overkill, but I honestly think they solidified my position as road trip snack queen.
If you're hoping to avoid a full vehicle detail when you get home, try packing these road trip snack options instead: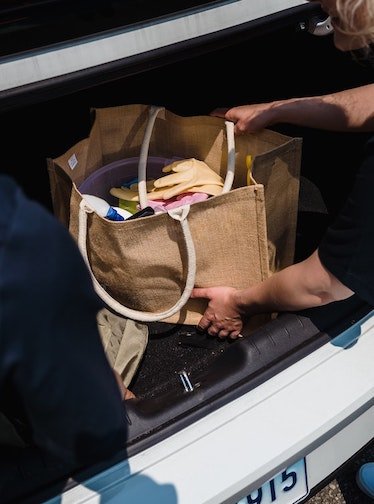 I've found that the best place to stock up on bulk snack options is Amazon pantry or Costco.
If you're eating meals in the car, I recommend grabbing a pocket travel utensil set like this one.
Stanley Thermos
This thermos tops my list for long distance road trip essentials. This can keep your drinks iced for up to two DAYS. You can also keep drinks cold for 11 hours or hot for seven hours. Amazon has options ranging from 14-40 oz in 14 different colors. Or check out this adorable 20 oz option from Urban Outfitters with the cutest pastel color choices!
Car Cooler Bag
This bag plugs into your car to keep things cold for longer so it's basically a portable mini fridge. No more melted ice packs and smelly food! It even comes with its own power inverted so you can plug it in indoors wherever you're staying.
Hydration Packets
Every road tripper knows these hydration packets are pure gold when you spend a lot of time on the road. Staying hydrated without having to stop for bathroom breaks every 30 minutes is a delicate balance. These hydration packs allow you to drink less water while still getting 3x the hydration.
Road Trip Tech Essentials
Another top priority is electronics. Make sure you have all these road trip tech essentials with you before you go!
Portable Charger Bank
If you find yourself sitting in the backseat of a car full of friends or family, a portable charger is essential. The USB port is either never where you need it to be, your cord isn't long enough, or everyone else is already charging their phone. I take matters into my own hands by bringing a portable charger so I don't need to worry about fighting for a prime charging spot in the car. I avoid conflict where I can.
Power Inverter
Sadly, long road trips don't always mean vacation. If, like me, you often need to work from the road, grab a power inverter for your car. A power inverter makes it possible to charge large devices like laptops, iPads, and cameras. This one comes with two outlets, a dual USB port, and a USB-c port.
Wireless Ear Buds
Obviously needed to tune out everyone in the car when it gets to be too much. Long distance road trips are fun until they're not.
Tech Organizer Kit
I love using this kit to organize all my cords and electronics. After all, those earbuds need to be within reach at a moment's notice.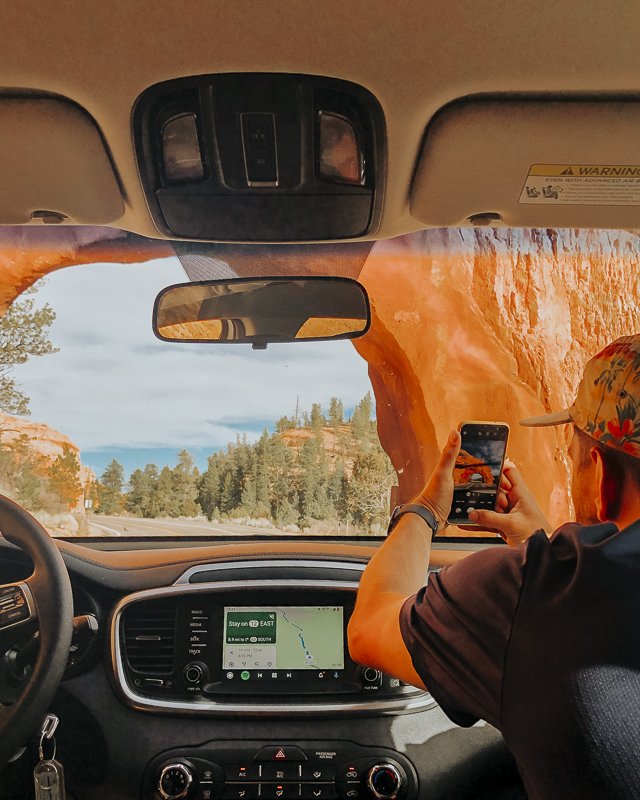 Road Trip Essentials For The Car
Mini Lint Roller
Small but mighty!! I keep a mini lint roller in my center console for all the times I am rush-eating in my car and make a huge mess. So like 90% of the time.
Handheld Car Vacuum
No matter how much I try to keep my car clean, I always accumulate dirt, dust, and trash during my time on the road. Having a portable handheld car vacuum is super helpful for tidying up as you go so you're not stuck with a huge mess when you get home.
Chair Back Hooks
These hooks attach to the headrest and maximize leg room for other passengers by keeping my bags off the ground. They also give me easy access to my purse while I'm driving. Get a pair for the driver and passenger side to keep your car organized!
Windshield Shade
I always throw a windshield shade on my dashboard to block UV rays and keep my car cool and protected while parked.
Mini First Aid Kit
It's smart to bring a travel first aid kit on the road, especially if you're traveling a long distance. This travel first aid kit comes in a metal case and contains all the basic essentials like bandages, pain meds, and sanitizing wipes.
Snow Scraper + Brush
Traveling in the winter is unpredictable so make sure you're prepared for the worst kind of weather. Throw a snow scraper and brush in your glovebox or trunk so you can safely defrost your car before driving.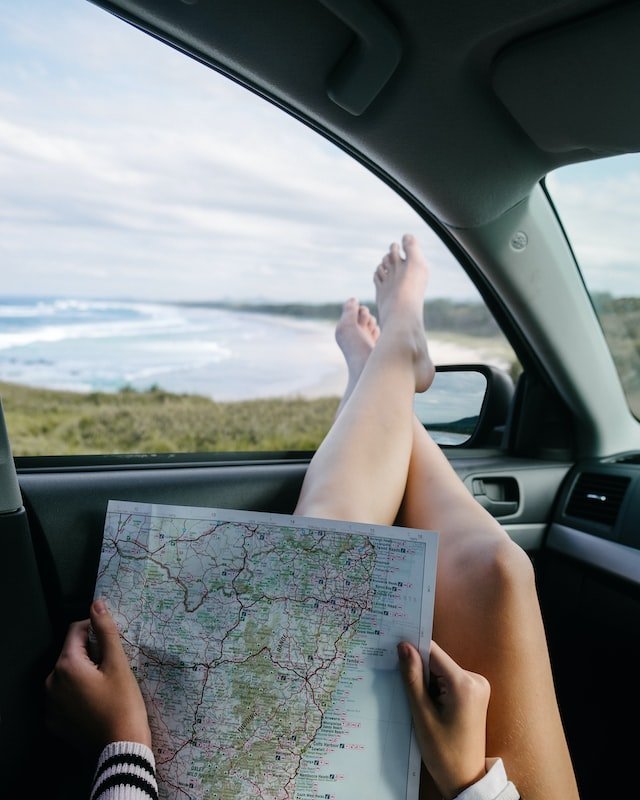 Road Trip Packing List Template
As a kid, I thought my family pioneered the whole "living out of your vehicle" craze that I now see everywhere. We were sleeping, eating, and living out of the back of our van before remote work on the road was trendy. This post brings up a lot of core childhood memories because road tripping is just part of who I am.
This post also wouldn't be complete without a packing list to keep track of your long distance road trip essentials. You can download my travel packing checklist excel sheet here and customize it for your upcoming trip!
My current vehicle doesn't get the gas mileage I was hoping for on long road trips but at least it's big enough to transport even more crap than before! 🙃 For more road trip essentials, browse my full list of road trip Amazon finds!