Supporting fellow women in business is one of my personal callings. I'm constantly inspired by women who juggle their personal life, family, professional career, and side gig all at the same time! Today I'm sharing 11 of my favorite women-owned businesses to visit at the Farmers Market in downtown Pensacola. Read more to learn how you can support these local boss babe vendors at Palafox Market every Saturday between 9am-2pm!
Farm Vendors at Palafox Market
Jade Tree Succulents in Pensacola offers unique, handcrafted succulent arrangements in a variety of styles and sizes. You can choose from cute potted succulents, cactus terrariums, and even disco ball planters! Additionally, Jade Tree Succulents' owner, Catherine, teaches a class on how to make your own succulent arrangements and shares knowledge on how to care for your plants. You can also check out her shop on Etsy.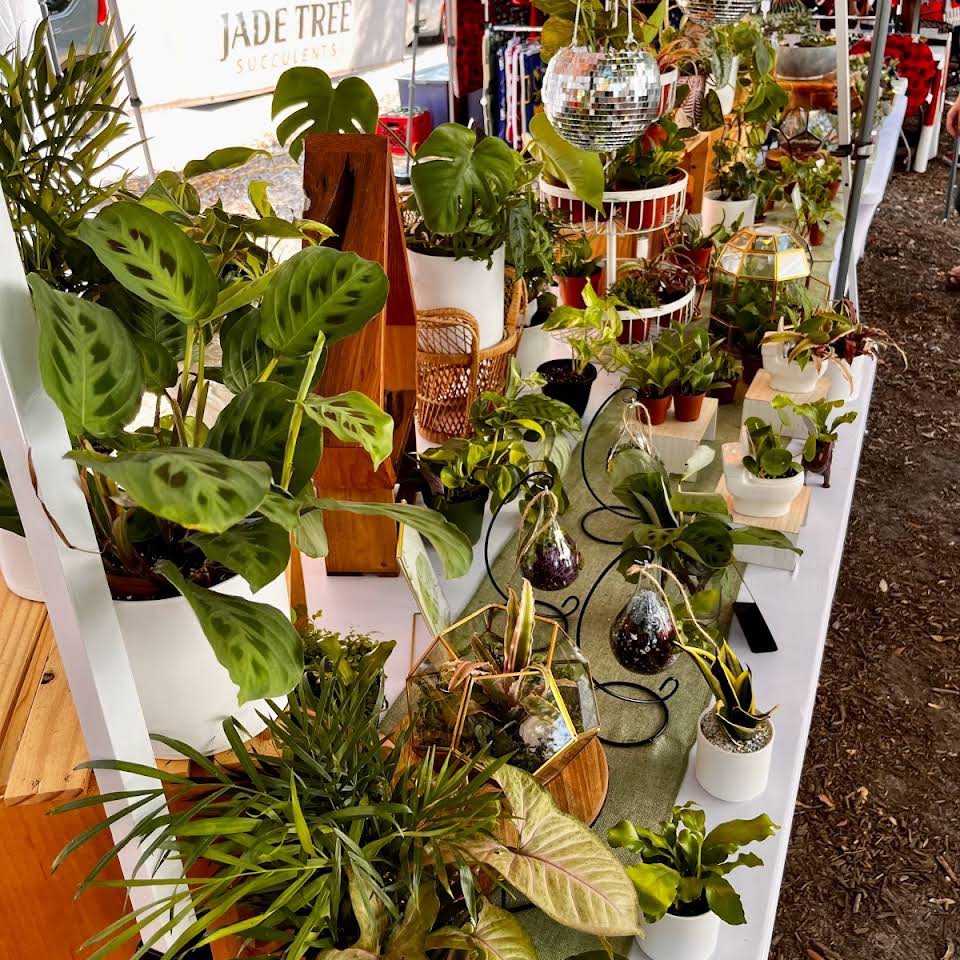 Photo: Jade Tree Succulents Booth setup at Palafox Market
Not only is this booth women-owned and operated, but it's also family- and veteran-owned! Jonalyn offers seasonal floral bouquets and greenery farmed from her land in Baker, FL. Stop by the Blossom Lane Farm booth for a grab-and-go bouquet, bulb or succulent garden, dried flower craft, or fresh cut flowers by the stem. Beyond her custom creations sold at markets, Jonalyn offers wholesale and retail flowers, a you-pick flower maze, and private event and wedding floral services!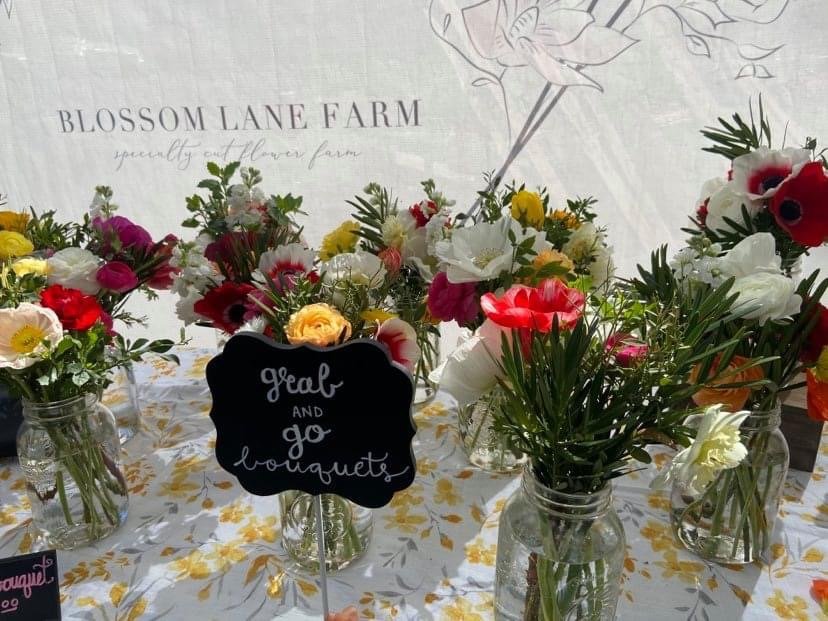 Food Vendors at Palafox Market
Once you check out Annie's Naked Cookies, I think you'll agree with me: Annie sells the prettiest, Pinterest-worthy cookies—these miniature works of art are almost too pretty to eat! You can find her beautiful cookie creations, as well as various other gluten-free and vegan baked goods, every Saturday.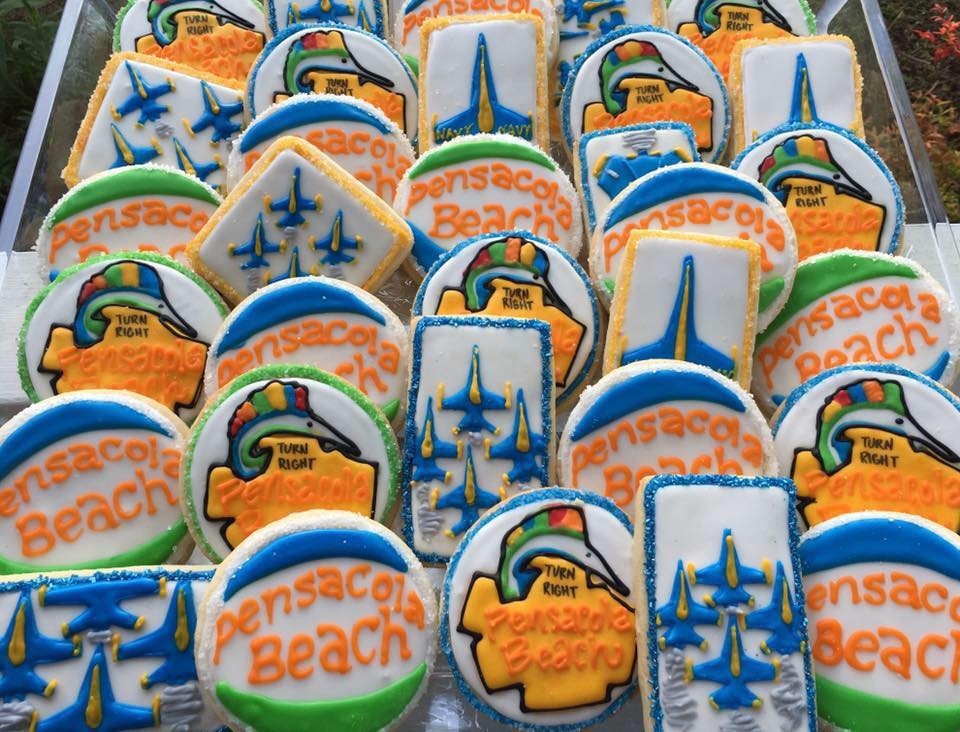 Photo: Pensacola Beach Themed Decorated Cookies by Annie's Naked Cookies
Obviously, I had to include Kelly Joy Peraino, AKA the Hummus Lady, in my women-owned vendor list! She makes all of her gourmet hummus by hand using organic and local ingredients. Some of her flavor options include Chipotle & Cilantro, Roasted Grape & Jalapeno, Citrus & Date, and Traditional Lemon Hummus. Make sure to stop by her Palafox Market booth to sample any of her delicious recipes—they all get rave reviews from her customers! My personal favorites are the Roasted Grape & Jalapeno and the mixed herb flavor.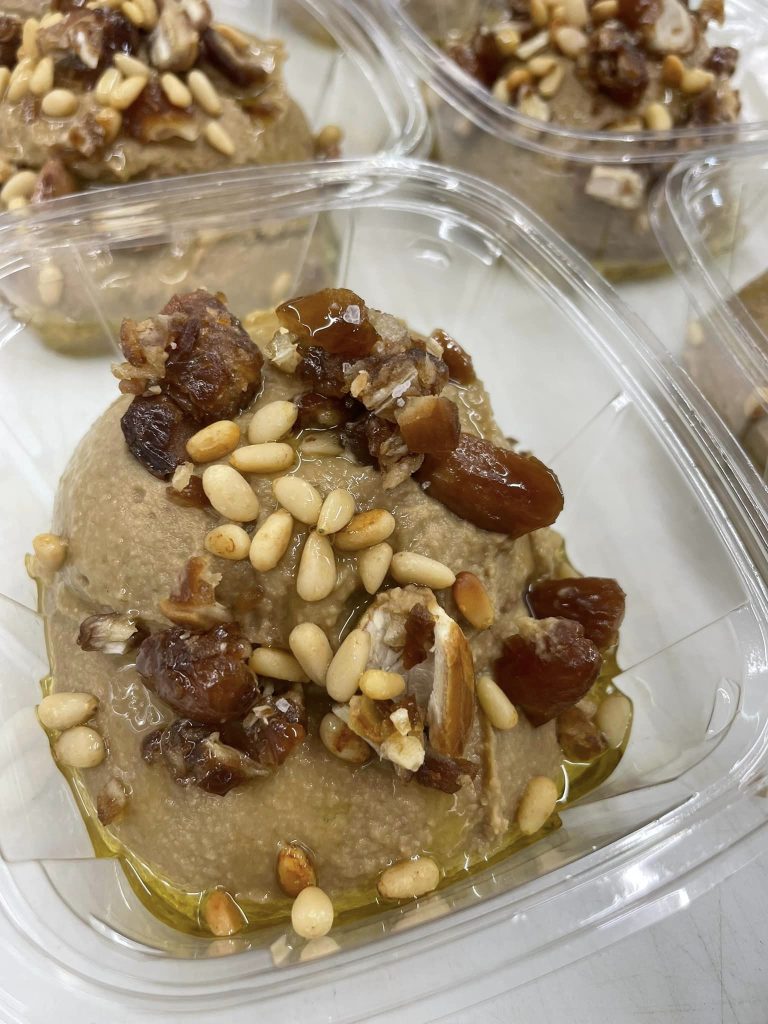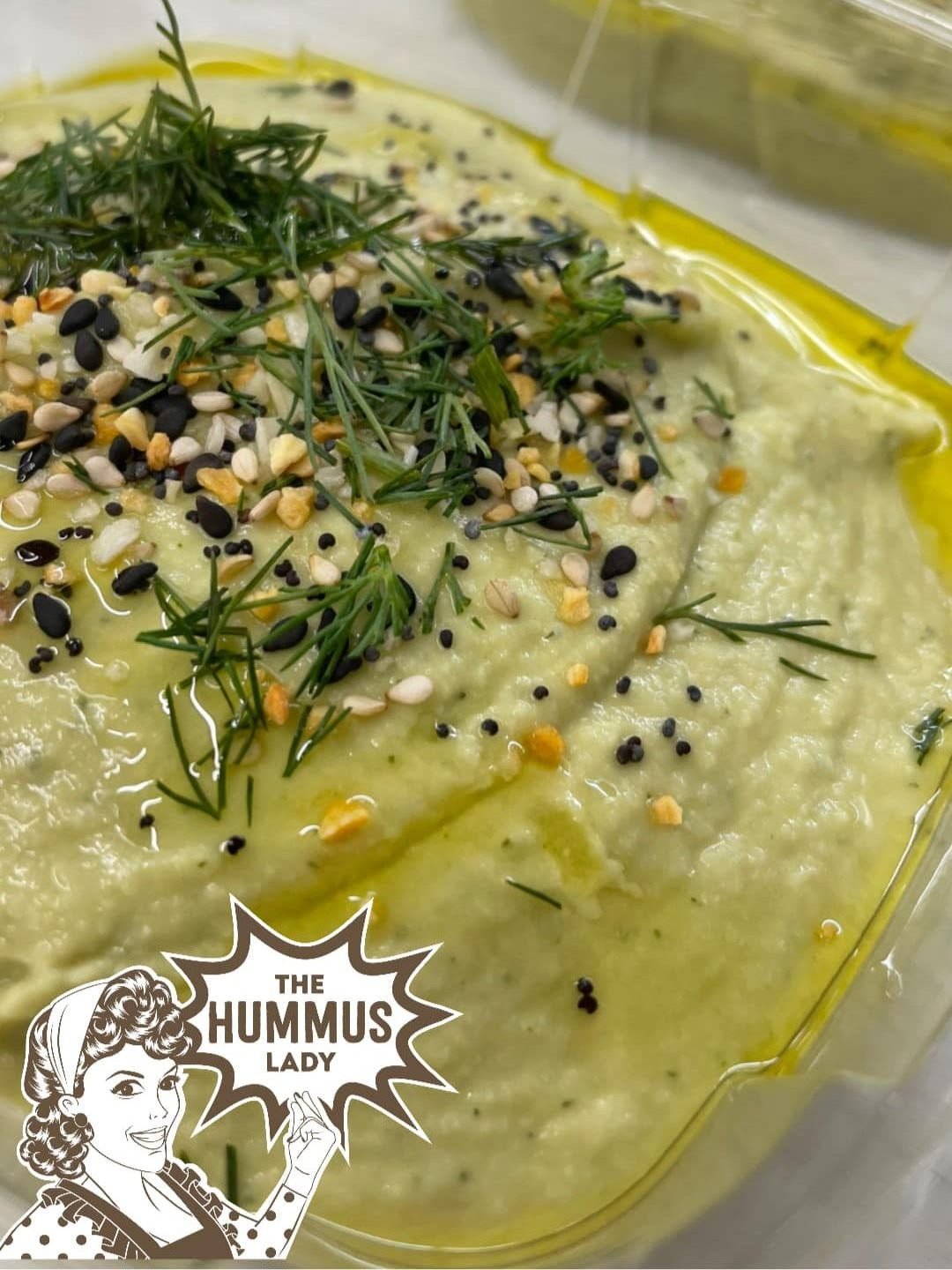 5. Filipino Food Express
Next on the list is Filipino Food Express. They may be one of many food vendors at the Palafox Market, but what sets May Lim's booth apart is her specialty cuisine and the variety of menu items available. You'll probably smell her booth before you see it, or else catch someone walking by with a plate full of delicious looking food. Some menu items to look out for include: lumpiang Shanghai (Filipino-style spring roll), vegetables stir fry, chicken adobo, fried and boiled peanuts, and Filipino-style shish-kabob, just to name a few. This is one women-operated food vendor at Palafox Market you don't want to miss!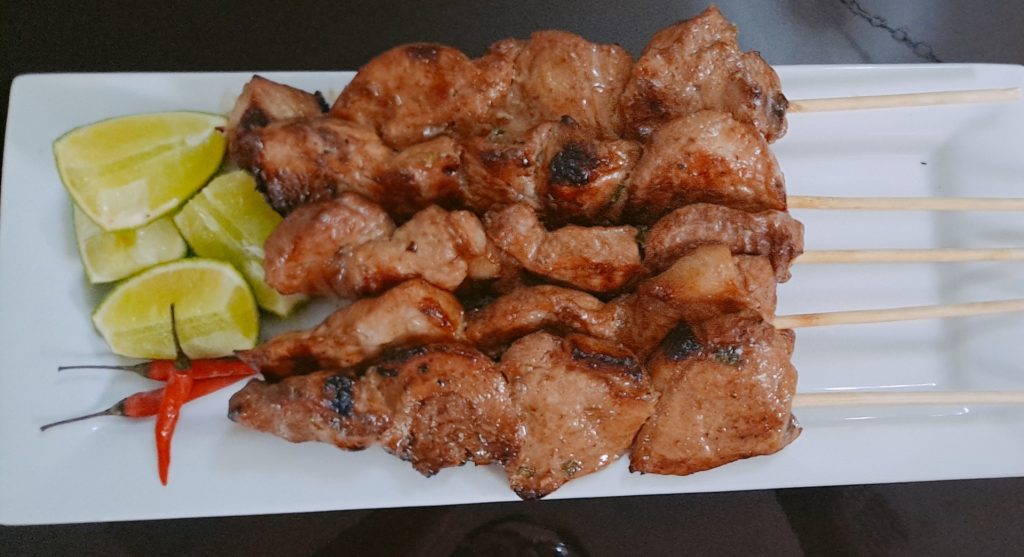 Photo: Filipino Style shish kabob skewers by Filipino Food Express
Whim Cotton Candy has arguably the cutest booth at Palafox Market. I just had to include Michaela's hand-spun creations! I'm not usually a cotton candy person, but every time I pass Whim Cotton Candy, I am tempted to stop and try every single sweet flavor and topping. You can expect to wait in a line for these melt-in-your-mouth pops. In 2022, Whim celebrated 1 year in business, launched their flavor of the month, and expanded their menu to include 50 new cotton candy flavors! Look out for the iconic blue and white striped umbrella cart, and you know you're on your way to sweet heavenly goodness.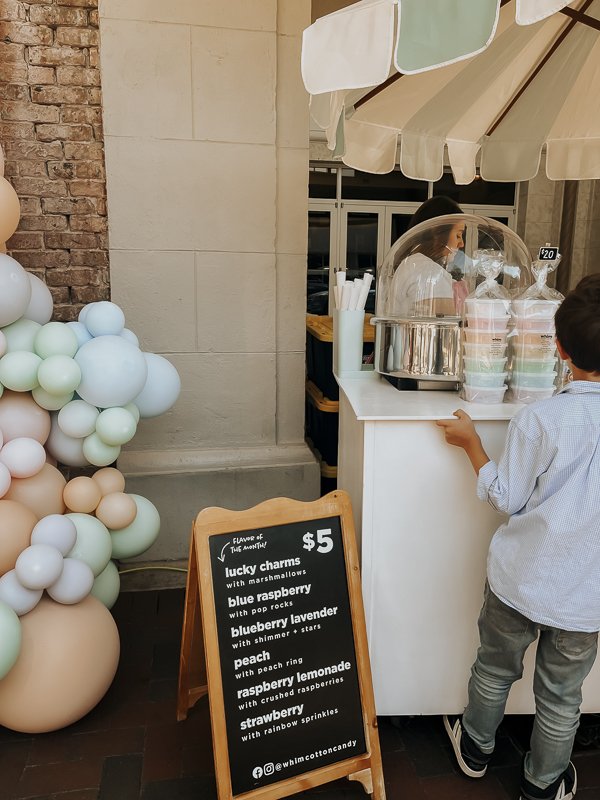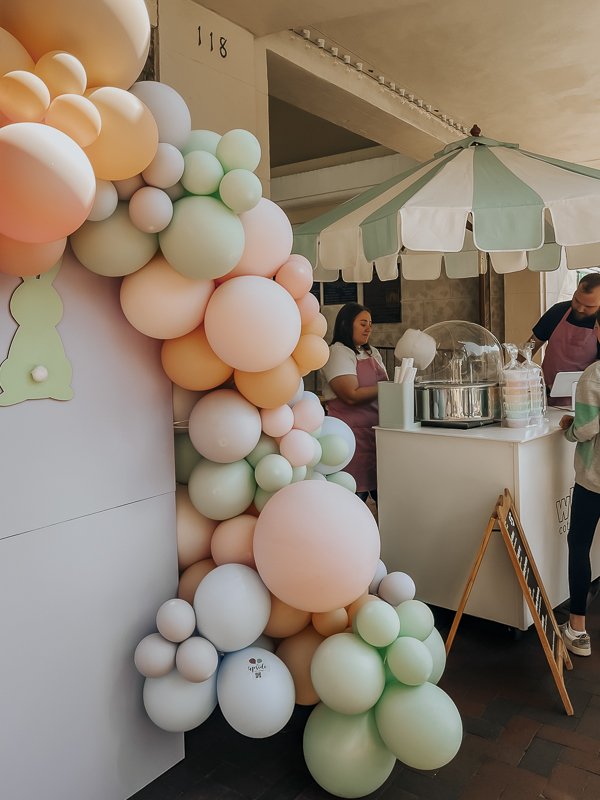 7. Beth's Bakery Buns
Beth serves up artisan bread, cinnamon rolls, scones, muffins, cookies, cakes, and more from her booth at Palafox Market. Beth's award winning Mardi Gras King Cake is also a huge crowd pleaser. For the past two years it has been voted a locaal favorite at Bluetique's King Cake tasting event! Check out Beth's Bakery Buns to stock up on fresh baked goods for the week and discover some new faves. Pro tip: the almond cake is to die for!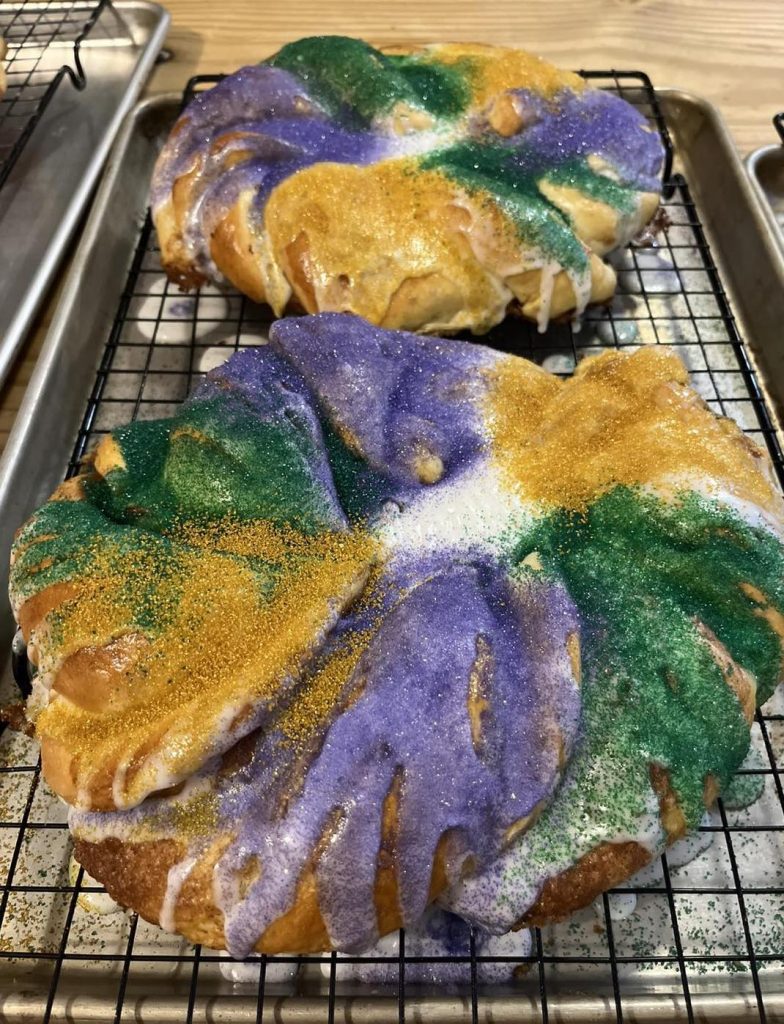 Photo: Beth's Bakery Buns King Cake
Beverage Vendors at Palafox Market
8. Sweet Jackson Tea
I first stumbled on Leilani's legendary Sweet Jackson Tea brand at The Eatery food truck park in Gulf Breeze. After that, I met her personally at the Shop Hop on Palafox in March and finally tried her sweet tea for the first time. Parker and I tried both the pineapple and lemon sweet tea flavors; it was the perfect refresher on a warm day. Leilani is just as sweet as her tea and very passionate about her products. Make sure to stop by to grab a bottle or two before exploring the rest of Palafox Market!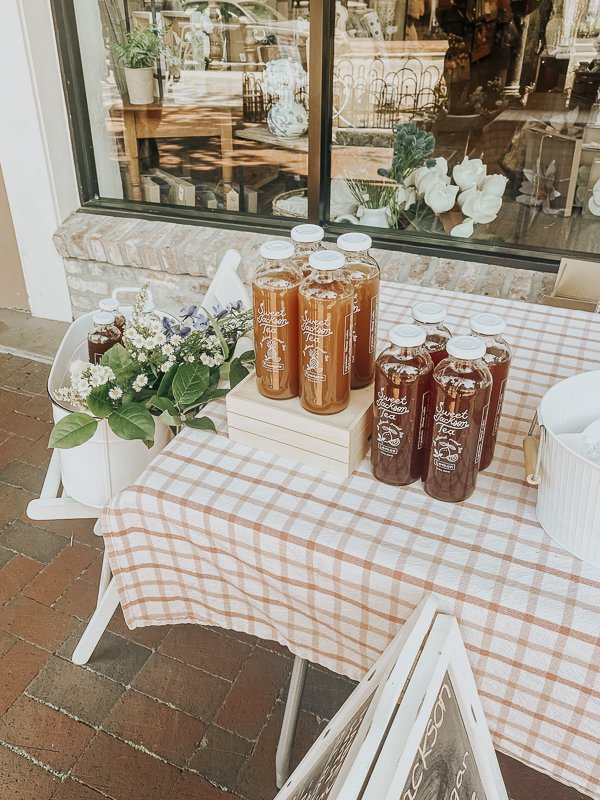 Art Vendors at Palafox Market
Jessica Monroe of Handcrafted Heirloom may be a one-woman show, but it's clear she hasn't let that stop her from creating a wildly popular jewelry-making business based in Pensacola! She creates and sells turquoise and white buffalo stone jewelry that's both bohemian and western. Handcrafted Heirloom jewelry stones are sourced from the Southwest and from two mines in northern Mexico. Check out Jessica's booth for a gorgeous handmade gift for a friend or for yourself!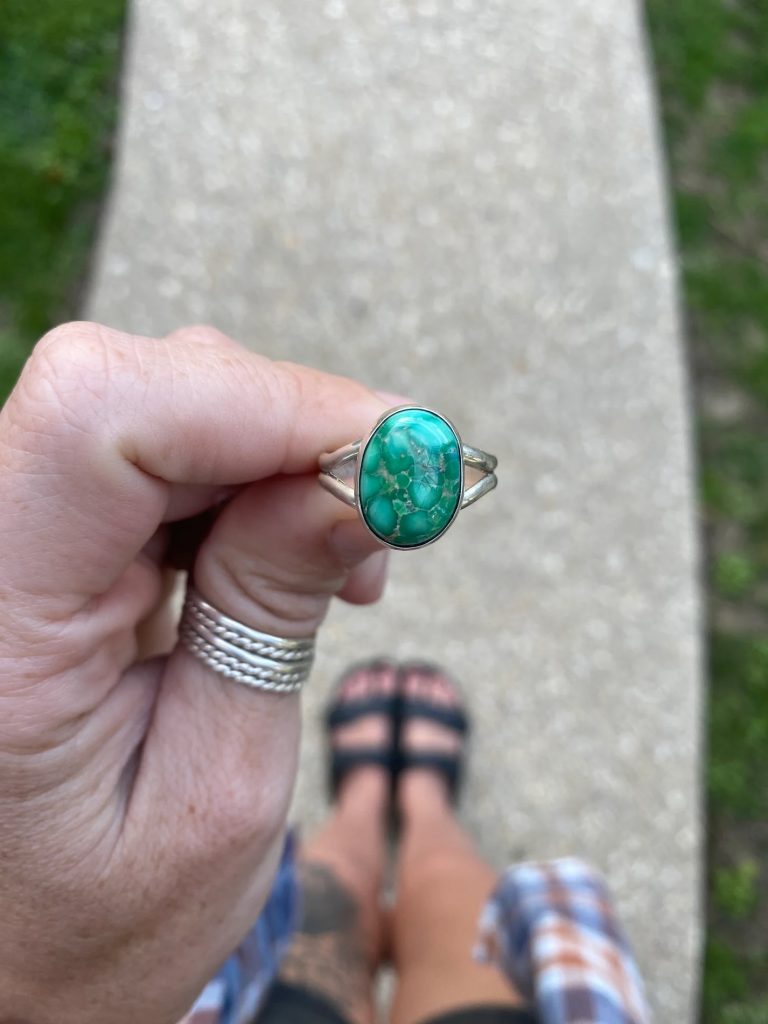 Photo: Emerald Valley Turquoise Ring on silver band by The Heirloom Indie
The first time I came across Thorn + Thistle was at the December Gallery Night in downtown Pensacola! Later, I found out that Thorn + Thistle sets up shop at Palafox Market on Saturday's as well. Founder Micaela offers flower preservation creations using her own flowers. She creates and sells floral wall decor, home decor (coasters, trays, ring holders), and decorated pots for indoor plants. She also sells various floral jewelry pieces like these gorgeous post earrings below!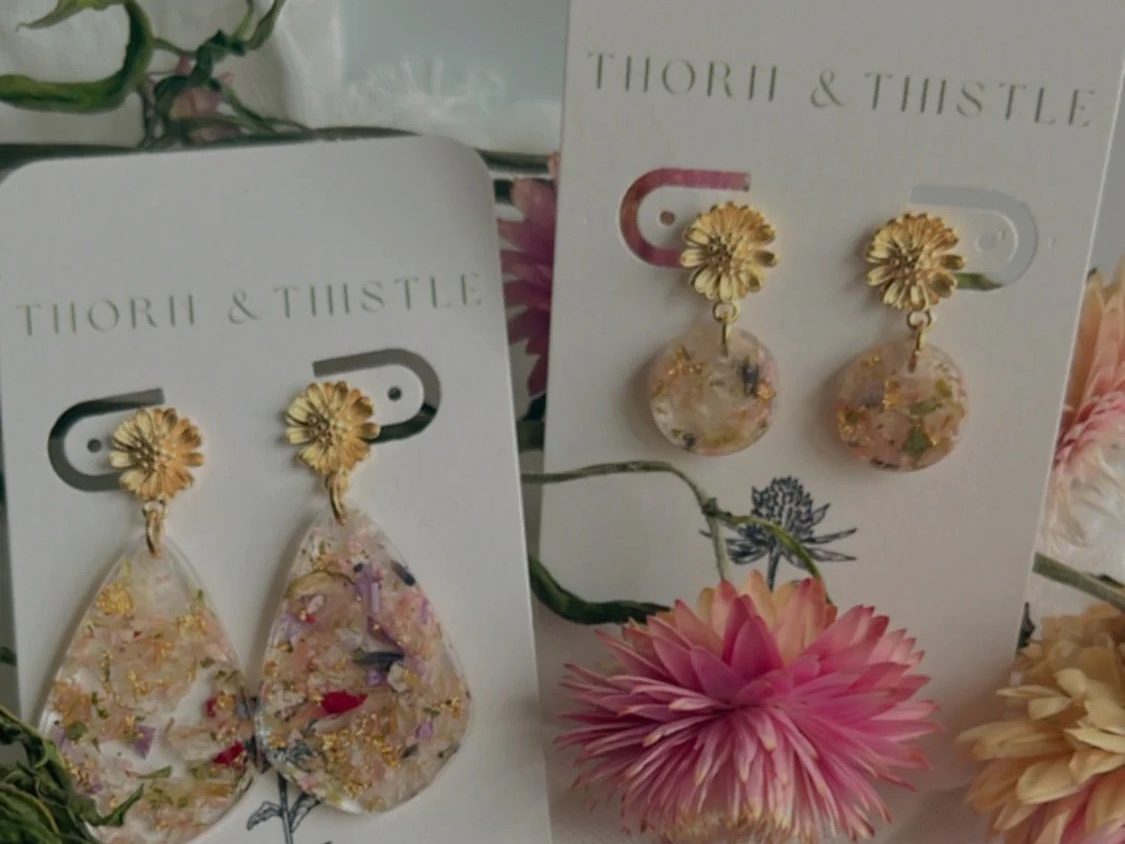 Other Vendors at Palafox Market
Sophie's Pupcake Pantry makes and sells homemade dog treats for your furry BFF. Sophie rotates her inventory between 15 different treat varieties, including decorated treats. If you're lucky, you may catch some of her pet-themed crochet items for sale, including bowls, placemats, and coasters!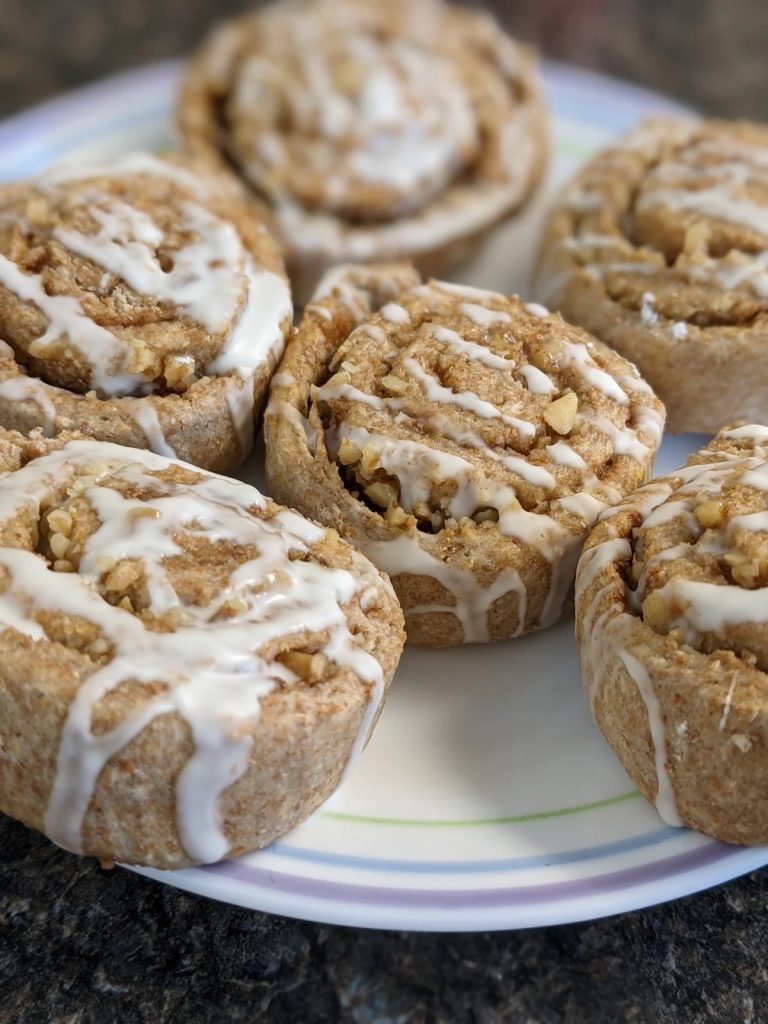 Photo: Doggy Cinnamon Rolls from Sophie's Pupcake Pantry
There you have it—11 amazing women-owned vendors to look out for next time you visit Palafox Market! All in all, this is just a small fraction of the talented women who set up shop every weekend at the market. Got any more recommendations for me?! I'd love to hear about your favorite vendors in the comments!
To get a full picture of the the small business community in Pensacola, make sure to visit Palafox Market on a regular basis to see the new vendors who rotate in each week. And don't forget to follow these ladies on social media to stay updated on their Palafox Market schedule! For info on other vendors at Palafox Market, hours of operation, parking, and more, check out my Guide to the Pensacola Farmers Market on Palafox Street.