As an Amazon Associate I earn from qualifying purchases.
We recently downsized from a 3-bedroom, 2-bathroom house to a 2-bedroom, 1.5-bathroom condo. Unfortunately, we lost a few closets and some square footage in the process. Aside from selling off some of our unnecessary items and several pieces of furniture, I've also had to find some creative space saving solutions.
I really wish there was a handbook on how to downsize from a house to a condo. As counterintuitive as this sounds, I realized in some cases I had to buy more things to create space for what we already have. Funny how that works. Below I listed 10 space saving items I purchased to create more room in our new condo. Despite all my doubts, it looks like we might actually have a place for everything and some room to spare after it's all said and done!
If you don't already own velvet hangers, this is your sign to get rid of all your old bulky, broken, wooden, and wiry hangers and snag these velvet ones. I started using these back in college after I saw how much more my roommate could fit in her closet.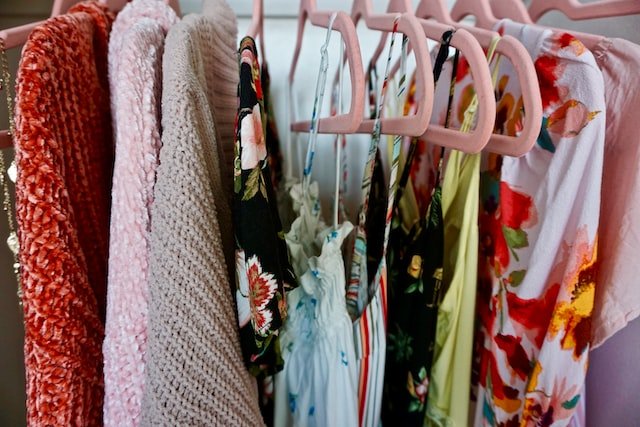 Velvet hangers are great for creating more space because they're so thin. They also cling to fabric much better, which prevents items from falling. There's nothing worse than finding your favorite shirt at the bottom of your closet after three months because it fell off the hanger.
Sometimes, even with velvet hangers, you find yourself trying—and failing—to fit that last sweatshirt on the rack. We've all been there. These hanger organizers saved me when we went from four closets down to just two. No matter how many things I donated, there just wasn't enough room in our new closets. These closet hanger organizers can accommodate five pieces of clothing on each hook, which quite literally doubles the space in your closet. These are perfect for dorms, apartments, or small closets when you need to maximize space.
Finding the right lid to fit a container is just annoying. It's even worse when you don't have a good system for storing them. I'm honestly not sure how I went this long without buying one but as soon as we downsized this was one of my first purchases. This lid organizer comes in multiple sizes as well so you can store as many lids as your heart desires. This is truly a must have for small apartment kitchen organization.
Of all the kitchen space saving solutions, these stick-on spice jar organizers are amazing for keeping your kitchen tidy. If you don't have deep kitchen drawers or a lot of space on your countertops, snag a set of these racks. They are so simple to use. Simply peel off the backing, stick them on the inside of your cabinet doors or cupboards, and slide your spice jars into the slots.
Just make sure to test and make sure your jars fit with the cabinet closed before sticking them on the door.
I used to throw mops, brooms, dusters, and anything else with a handle in whichever closet they would fit. I finally bought a wall-mounted organizer rack that holds all of these items in one place inside our broom closet.
This one even has hooks so I can attach a dustpan, bag holder, and lint roller. This has kept our closet super organized and all of our cleaning supplies are easily accessible. This can even hold heavy garden equipment like rakes, shovels, and spades, so it would also come in handy for organizing a garage or shed.
Although this doesn't quite fall under the traditional "space saving solutions" category, I'm making the executive decision that it should. This one might sound strange, but I converted my dog's crate into a table with a dog crate topper. We have a large crate that takes up a lot of space so we weren't quite sure where to put it. Now that we've added a wooden topper, the crate doubles as an end table in our living room next to the couch. I dressed it up with a lamp, picture frame, candle, and a decorative jar of treats.
My aunt actually custom-made our wooden topper but you can buy an identical one on Amazon or Etsy.
If you have room to add another piece of furniture to your home, I highly recommend a hutch. This was on my list of first home must haves since the kitchen in our New Bern house was very small. I love to cook and bake so naturally I have a lot of kitchen equipment. The hutch held utensils, wine glasses, lines, and some larger cookware like our crockpot and dutch oven. We went from one small kitchen to another, so this hutch came in clutch (😎) at our new condo, too.
Since now we have slightly more cabinet space, our hutch holds more of our decorative serving ware, miscellaneous, and seasonal items. I love our IKEA hutch because it's narrow but still fits a lot of stuff. This hutch from Wayfair is beautiful and currently on sale! This is a similar and cheaper version of our IKEA hutch on Amazon.
I didn't realize how big of a difference this compact trash can would make until I started using it. Before this, I had a bulky plastic trash can with a foot pedal that took up way too much room. I've also done the whole trash can under the kitchen sink thing and that took up so much extra storage I needed for cleaning supplies. Not to mention, it barely held anything!
This stainless steel, 16-gallon trash can is perfect because it has two sides; one for waste and one for recycling. It even has a built-in filter to reduce odor.
Is it just me or is the sink drain always in the most inconvenient spot?! I could not find an efficient way to store things under the bathroom sink until I bought this under-sink organizer. It has two levels and shelves that are customizable so you can move them around to accommodate the sink drain.
This double wire basket supply organizer is amazing! I store everything I reach for daily right inside this nifty cabinet-mounted organizer. Cleaning spray, scrubber brushes, paper towels, Windex, you name it. I even bought a smaller version of this that stores and dispenses trash bags. Genius.
So there you have it, 10 of my most-used small space organization items I can't live without! Figuring out how to downsize and simplify your life isn't always easy but it's so rewarding. Even though you'll be getting rid of a lot during a downsize, there are space saving solutions that allow you to hang onto all the essentials. Once you add these to your home, you won't understand how you ever lived without them in the first place.
Are you living in a small space or planning to downsize? Let me know in the comments the small space solutions you swear by!