Ironically, I never tried ramen until after I graduated college. The food snob part of me just thought, "that's disgusting", and the unconventional side of me just didn't want to give in to the college student "stereotype". And yet somehow neither of those personality traits came into play when I decided double cheese quesadilla trays from Cookout at 2 am on the reg were a good idea??? I'm at loss on that one. What I am sure of is this Thai Green Curry Ramen recipe isn't your average "college ramen". Although, I do use the classic orange ramen packets from Maruchan. You could say I'm making up for lost time.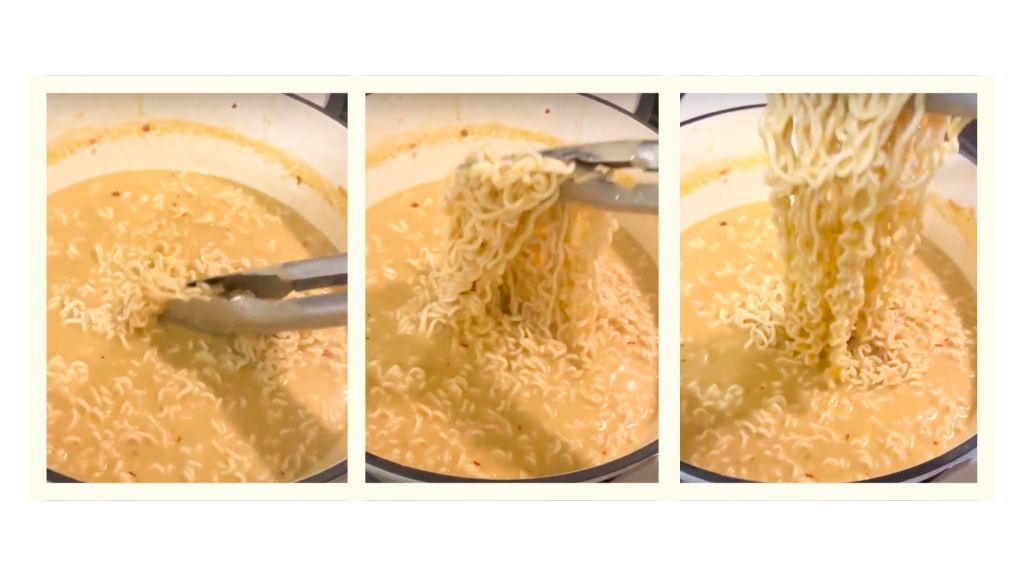 Now that I'm older, wiser, and way more adventurous when it comes to most Asian cuisine, I'm excited to share some of my favorites on the blog. This recipe isn't particularly "adventurous" per se unless you're averse to spice. When it comes to spice, I say bring it on in any way, shape, or form. But I have to admit, I made this recipe for my in-laws and went super light on the spice and it was still delicious. And I don't always say that.
Thai Green Curry Ramen Healthy Toppings
I think it's just the unique, rich, and comforting combination of flavors in the broth that keeps me coming back to this meal. Not to mention, it's a great way to get rid of all the lingering veggies I keep in my fridge that can be used as quick and effortless toppings. Things like cabbage, carrots, microgreens, and cilantro.
When we're serving this to guests I like to prep a variety of different options and make it a sort of build your own ramen bowl situation. Here are several ideas for mix-and-match toppings:
Mushrooms
Crushed peanuts
Bean sprouts
Bamboo shoots
Chopped green onion
Lime
Julienned carrots
Shredded purple cabbage
Sesame seeds
Tofu
Now that I've accumulated a huge variety of spices and ingredients typically used in Thai cuisine, I feel more confident when I'm cooking that I'll generally have what I need on hand. Once you've made Thai green curry ramen once you'll see how easy it is to swap out filler ingredients toppings and experiment with different combinations of flavors.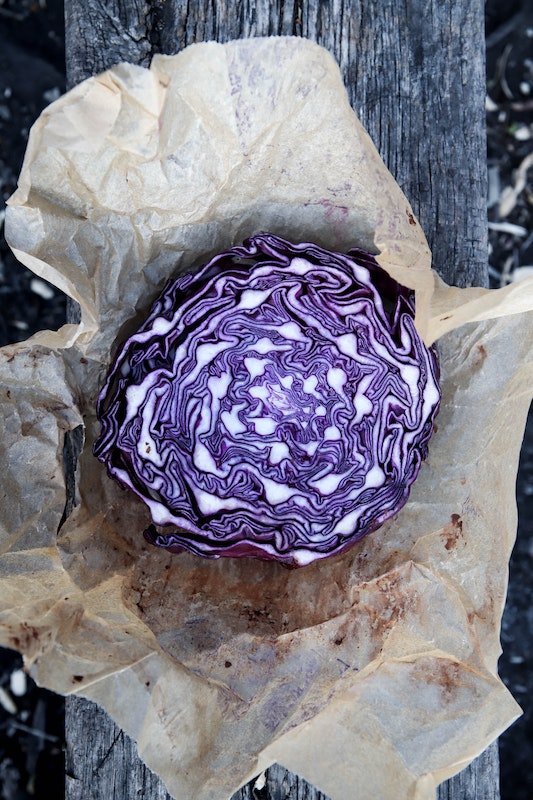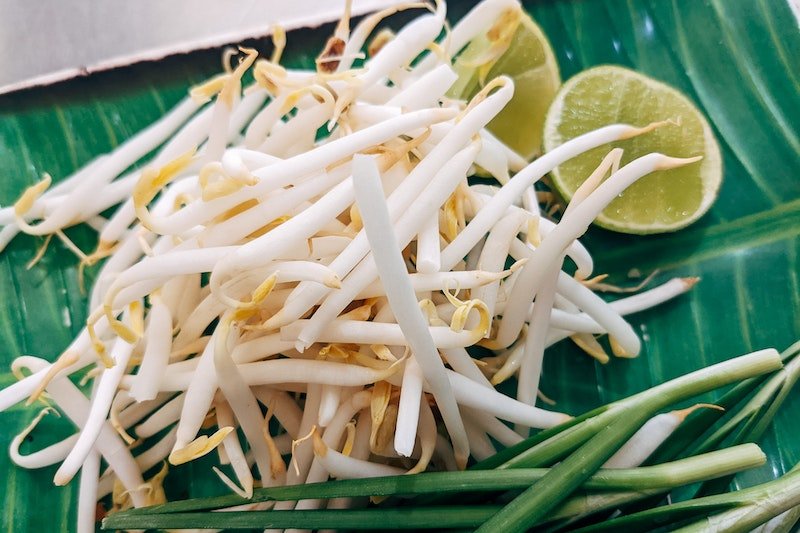 This recipe is also a great option if you're vegan. The peanut butter in the broth is already a great source of protein but you can also add more on top with tofu and peanuts. When I first tried making this ramen, I referenced the Vegan Spicy Thai Peanut Ramen recipe over on the Rabbits And Wolves blog. It's hard to get my husband to try anything that has the word "vegan" in the title so we topped ours with sautéed shrimp. I think it's delicious with or without meat!
Unique Ingredients in this Recipe
The third time I made this recipe I tried the Imagine Organic brand vegetable broth. Now I swear by this one and won't use any other kind. It's thicker and more opaque than your average and the result is a really thick and creamy ramen broth.
Two years ago my best friend introduced me to another staple in my ingredient repertoire: GG paste. AKA Ginger Garlic paste. I buy the Swad brand from a local Indian grocery store. If you cook a lot of Indian or Asian dishes this is a must-have and you will find yourself using it all the time!
If you've never cooked with Thai green curry paste, it usually comes in a tube or a jar. I get the Blue Dragon brand from the Asian foods aisle in my local grocery store.
Coconut milk is also used in this recipe. I get mine canned and don't usually buy a specific brand. Make sure you're getting the full-fat coconut milk— not the lite stuff or the cream.
Thai Green Curry Meal Prep
To make this ramen last several days, plan on doubling the recipe and reserving some of the finished broth before adding in your ramen as the last step. Plan to add fresh noodles only when you reheat the broth so they don't soak up all the moisture and get soggy.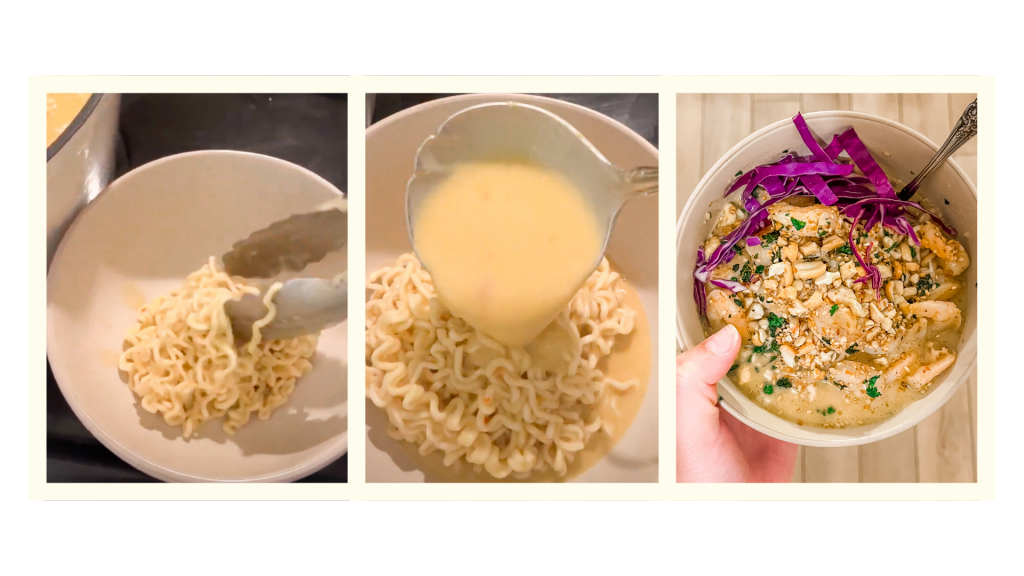 Reheating Instructions
Keep broth refrigerated in an airtight container or glass jar.
Pour desired amount into a small saucepan on the stovetop.
Cook over medium/high heat until you reach a simmer. Stir occasionally.
Add a fresh pack of ramen noodles and stir for 2-3 minutes until fully cooked.
Remove from heat and enjoy!
Check out the recipe below and let me know what you think. I can't wait for you to try this!
EASY One Pot Thai Green Curry Ramen
This is one of the easiest and most delicious ramen recipes you can make at home in one pot! My meat-loving husband can't get enough of it… and it's VEGAN! Surprise!
Ingredients
2

Tbsp

light olive oil or canola oil

Choose the light oil that is meant for sautéing and grilling (not your drizzling oil!)

3

Tbsp

ginger garlic paste

3

heaping Tbsp

Thai green curry paste

4

cups

thick vegetable broth

My favorite is the Imagine Organic brand

1

can

coconut milk or cream

Shake the can well before opening

3

chopped green onions

Reserve half for topping

½

Cup

peanut butter

I use Jiff

2

small limes (juiced)

Or 1 ½ medium sized limes

2

tsp

red pepper flakes

3

packs

ramen noodles

toss or reserve flavor packets
Toppings
shredded red cabbage

sesame seeds

finely chopped cilantro

finely chopped peanuts

lime wedges

julienned carrots

reserved green onions

satueed shrimp

optional for carnivores

chili garlic oil

optional for extra spice

red pepper flakes

optional for extra extra spice
Instructions
Set your dutch oven or large pot on the stove over medium heat.

Add cooking oil to the pot and heat for 1 minute. Add ginger garlic (GG) paste and half of the chopped green onions. Cook for 2 minutes.

Add Thai green curry paste and cook for 2 more minutes.

In the meantime, whisk together lime juice, peanut butter, red pepper flakes, and one cup of vegetable broth in a small bowl (this is so you can easily incorporate the peanut butter).

Stir vegetable broth, coconut milk, and peanut butter mixture into the pot. Cover and let cook over medium heat for 10 minutes so flavors can develop.

Uncover and add three packs of plain ramen noodles to the pot. Stir for about 2 minutes until just cooked through.

Serve immediately and top with desired toppings.