The Clean Beauty Revolution
I still remember the beginnings of the clean beauty revolution. There were only a handful of breakthrough brands claiming a clean or all-natural ingredient list and environmentally safe manufacturing practices. Now, the clean beauty concept is something we've all encountered. You probably own a handful of clean beauty products or maybe you're looking to clean up your makeup bag. Most makeup and skincare brands—if they aren't already—need to work hard to formulate clean products that appease today's conscious consumers. Lucky for us, that makes it easier than ever to shop for clean beauty products online that are good for your skin and the environment. I recently shared a post about 7 amazing clean makeup products that are 100% worth buying.
It's easy to get confused by the marketing language surrounding clean, vegan, and "conscious" beauty products. Make sure to read up on what ingredients are included (and not included) in the products you're shopping for!
To be honest, not all clean products are created equal. There are definitely levels to clean beauty and it's really about doing your research. You'll also need to test which ones actually work for you and are up to the standard you consider clean.
How the Beauty Industry Defines "Clean"
To tell you how the beauty industry defines clean would be somewhat of a long-winded answer. Think of clean beauty in two different verticals:
Clean for you
Clean for the planet
Sounds simple enough, but those two categories encompass many different factors. For example, when you're searching for products that are clean for you, that doesn't just mean products that won't irritate your skin on the surface. Just as one example, certain cosmetics ingredients such as BHA, phthalates, and parabens have all been linked to hormone disruption. You may need to look deeper than just the skin-level effects of your products to find what you consider safe.
More factors come into play when you're considering what products are also clean for the planet. Unstainable sourcing, animal cruelty, child labor— it's all very real. Certain synthetic ingredients can be perfectly sustainable while some natural ingredients can be harmful for the environment when improperly sourced. It's not always as cut and dry as cosmetic marketing makes it seem. The bottom line? Beware of greenwashing and clever marketing that makes certain products seem more environmentally friendly than they really are.
The End All Be All of Clean Beauty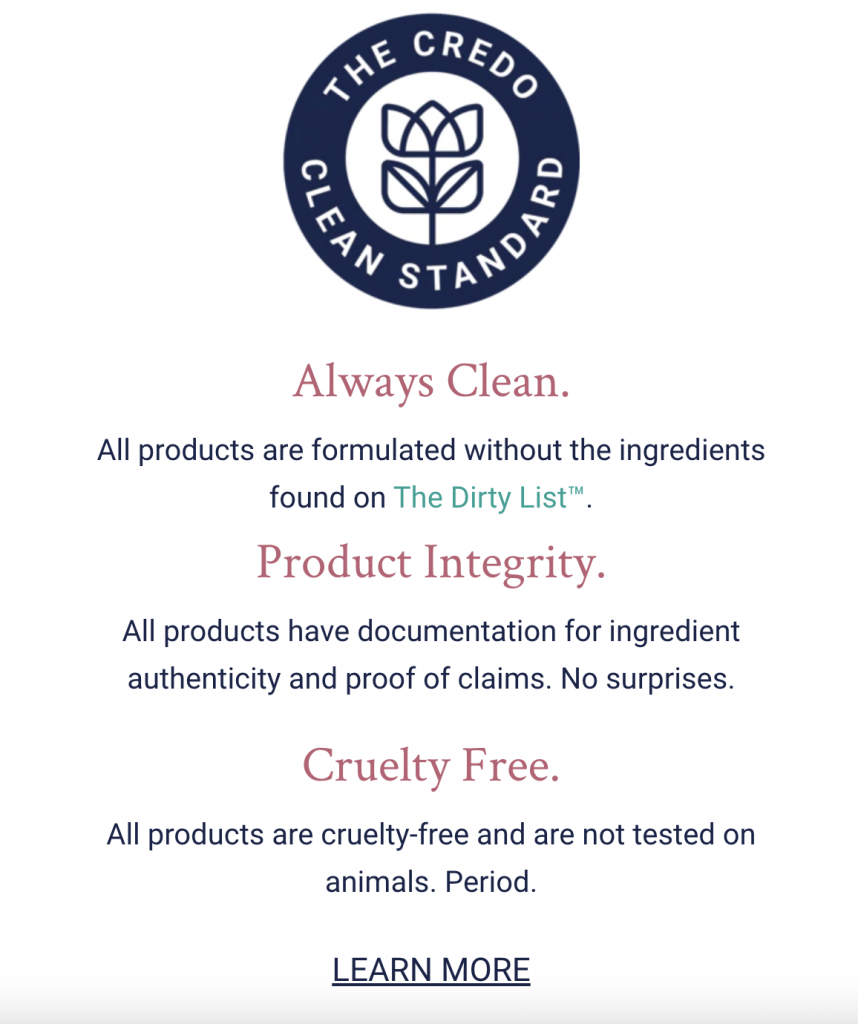 The ultimate, U.S.-based clean beauty standard lies with Credo beauty. Credo's mission statement reads:
CREDO: WE DEFINE CLEAN
Credo fearlessly pushes beauty forward by setting the most demanding standards so that one day, all beauty will be clean beauty.
You can find luxury natural cosmetics, ethical skincare brands, clean beauty reviews, and some of the best nontoxic makeup on Credo's website. They even have a section that details essential clean beauty swaps if you're thinking of swapping out some of your primary products.
Their website boasts "the largest assortment of the best beauty products on the planet", which meet their trademarked Credo Clean Standard. They created a Dirty List of over 2,700 ingredients that are all avoided by the brands that claim to meet the Credo Standard. You can find a list of their brand partners here.
Best Websites to Shop Clean Beauty
Shopping clean is much easier when you can look past the pretty packaging and do your research on the brand and ingredients. That's why I always find it easier to shop clean beauty online rather than in person. It takes away the pressure of buying and you can spend time comparing prices and ingredients. If you're like me and Sephora and Ulta are your online shopping go-to's, check out how easy it is to shop clean beauty on their sites.
Ulta Conscious Beauty Section
Ulta has a section of their site specifically dedicated to conscious beauty but at first glance, you may not know where to look. If you're on desktop, click on the top left menu and scroll to where it says 'Conscious Beauty' at the bottom. On the Ulta App, click on the Shop tab and scroll down to Conscious Beauty to find out more and read FAQs.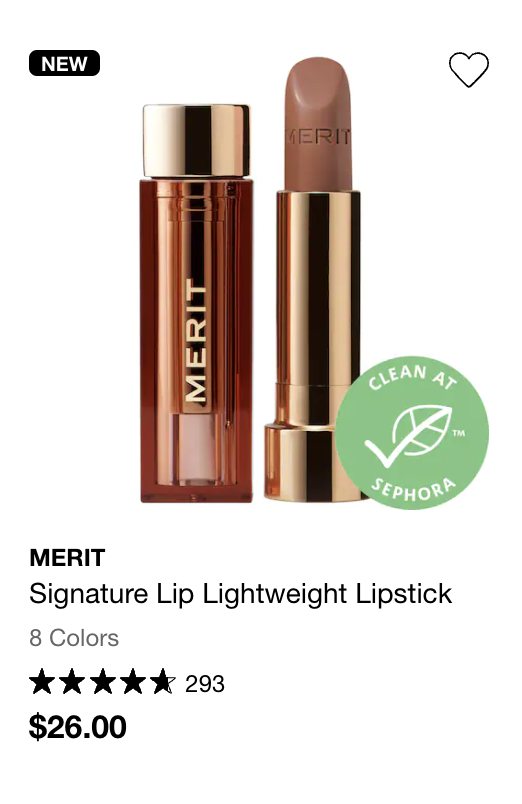 Ulta specifically calls out Credo Beauty under the conscious beauty section of their site and makes it super easy to shop for Credo approved beauty brands and products. Check out the credo collection here. Halfway down the page, they list which Credo brands are available at Ulta online.
Both Sephora and Ulta have built-in search tools and filters to find clean beauty products that match what you're looking for as well.
Clean Beauty At Sephora
I love how Sephora clearly spells out what constitutes "Clean At Sephora" under the Ingredients section directly below each clean product listing. Clean products are also denoted with a small green badge in the bottom right corner of the thumbnail to make them super easy to spot.
Sephora notes that "Clean at Sephora products are formulated without: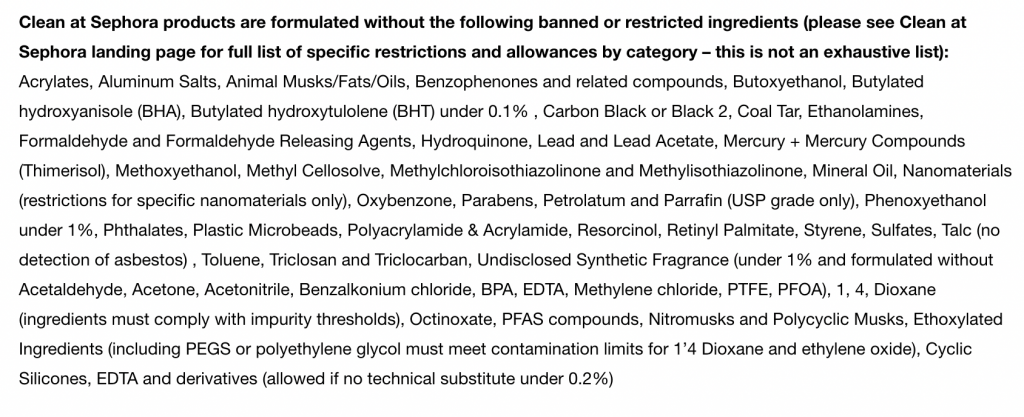 Free People Clean Beauty
Free People might not be the first place you'd think to shop beauty and personal care but I've noticed they have a pretty impressive list of clean brands available. Brands like Pai, Mara, Jillian Dempsey, Ranavat, RMS beauty, Axiology, Athr Beauty, Juice Beauty, and Suntegrity are all available on their site.
To learn more about Free People's commitment to reducing their impact and increasing their transparency, visit their Care FP page.
Grove Collaborative Clean Beauty
I've been getting my household cleaning products from Grove Collaborative since December 2020. At first, it was just cleaning products but I've actually discovered some of my favorite skincare and makeup products on their site as well. Grove works on a monthly shipment model where you customize and fill up your box to meet their shipping minimum and choose a shipment date that works best for you. You can opt to join their VIP membership, which gives you perks like unlimited free shipping, free gifts every season, exclusive promotions, and early access to new products.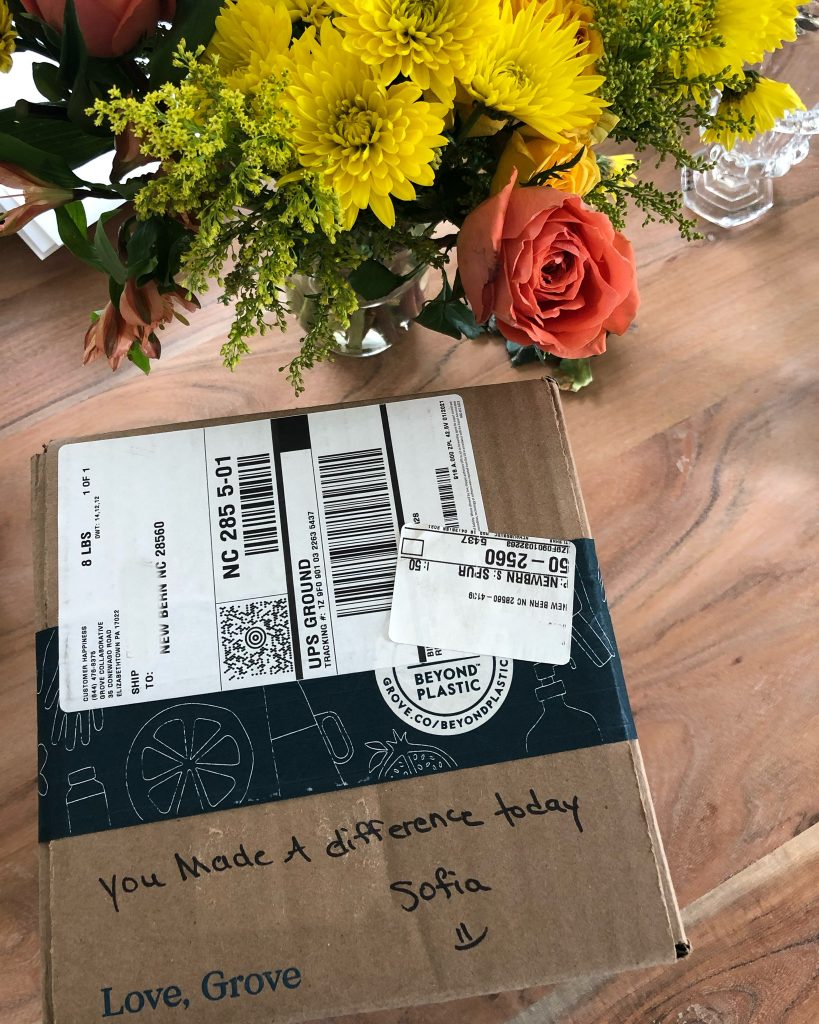 For a free gift set with your first purchase, click to sign up for Grove here.
Grove's mobile app is also super easy to use and shop! This brings me to….
Best Apps For Shopping Clean Beauty
Other than the common apps for skincare and makeup like Sephora and Ulta, there are a couple of great apps you can download to look up products when you're not sure or shopping in person.
EWG's Healthy Living App
This is a super powerful app from The Environmental Working Group with so many useful methods for finding clean skincare, cosmetics, body care, and even food and cleaning products. You can scan barcodes directly in the app and EWG will pull from their Skin Deep™ Database to show possible health hazards, UVA/UVB balance, allergy, cancer, or developmental concerns associated with that product.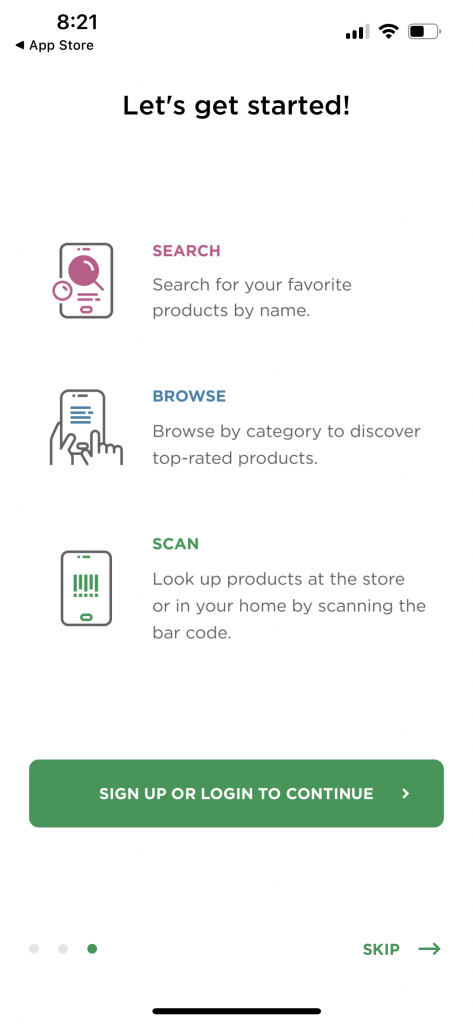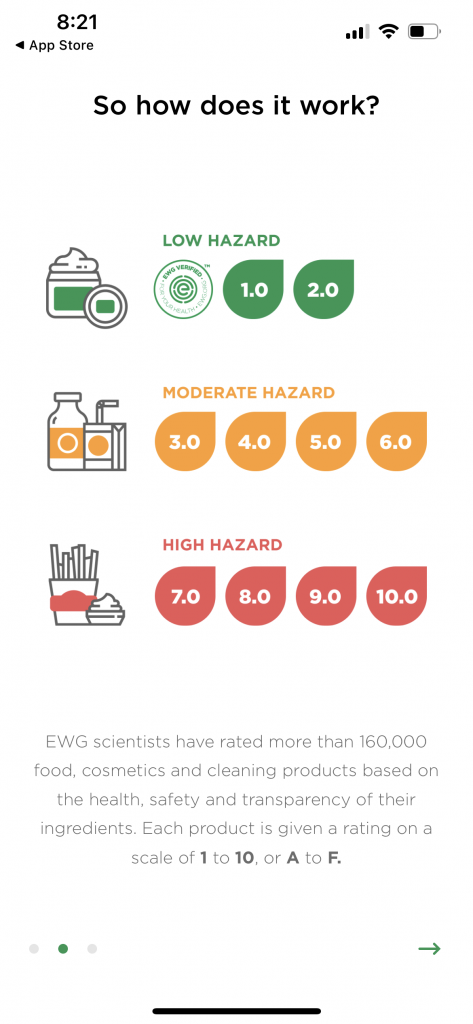 EWG rates each product on a scale from 1-10 or A-F, with the higher number or letter corresponding to a higher rate of hazardous ingredients. You can browse popular categories in the app like Personal Care, Food, Cleaning Products, and Sunscreen to find products that fit your lifestyle.
Think Dirty App
If you've ever heard of an app for shopping clean, it's probably this one. The Think Dirty app has been around for almost 10 years and contained an impressive 68,000+ products when it first launched. Founder and CEO Lily Tse claims Think Dirty is more than an app and describes it as "a consumer revolution for safer cosmetics".
Since 2018, Think Dirty has hosted the Dirty Thinkers' Choice Awards which allows Think Dirty app users, social media followers, and clean beauty lovers to vote for their favorite clean products of the year. Think Dirty compiles the votes into the following categories: Best Skin Care, Best Makeup, Best Hair, Best Body, Best Baby/Kids, Best Household, and Best Fragrance. In 2019 they added two new categories: Best Indie Brand and Best Breakthrough brand. Click here to see the latest 2021 winners.
Download the Think Dirty Mobile App
Think Dirty users have scanned and submitted almost 2 million products into the app, which now contains over 4,500 different brands users can browse and shop. To discover new products, give a unique gift, or get consistent clean beauty every month, you can try a Think Dirty Beauty box subscription.
Shopping for clean beauty products online is easier than ever before. It's also more common for brands to try and fly under the radar with misleading marketing or packaging that seems clean but really isn't. If you are serious about making the swap to a cleaner makeup bag or skincare regime, do your research and check out the ingredients. Apps like Think Dirty and EWG's Healthy Living are great resources to double-check a product's claims and make sure it is safe for you and the planet.
I'd love to know about your clean beauty journey and if you're thinking about making the switch to cleaner products. Comment below and let me know which clean products you're loving right now!